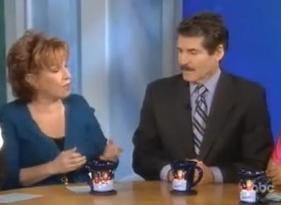 FBN anchor John Stossel returned to his former network, ABC, for an interview with the women of The View.
The discussion, about banks, bonuses and the government's role (you can guess where libertarian Stossel stands), was spirited, but ultimately came to some common ground.
Barbara Walters introduced Stossel, who she described as "my old colleague."
After espousing his libertarian views, he picked up on a term used by Joy Behar: dookie hole. "I think we're in the dookie hole because of Barney Frank and Congress saying 'lend to everybody,'" he said. "The bankers are just greedy people taking advantage of that."
So what does Stossel think we should do about all the bonuses? "Do nothing, and they shouldn't have given them money to bail them out in the first place," he said.
Behar countered the argument later in the segment. "It's easy for people like us who are doing well to say people have to fail, people suffer in this system, but you need a safety net in this country," she said.
And although Whoopi Goldberg seemed to make clear through her facial expressions that she disagreed with Stossel's line of reasoning, she did offer some support for his views. "Everyone has to always remember, there are some cases when the government has to step back," she said.
FBN, like sister network FNC, and ABC seem to have a good working relationship, with each other's talent appearing on various programs, from Good Morning America to The O'Reilly Factor.
Here's the Stossel interview today:


—–
» Follow Steve Krakauer on Twitter
Have a tip we should know? tips@mediaite.com