Stranger Than Fiction: Former Romney Aide Unhappy With Campaign's Portrayal On HBO's Newsroom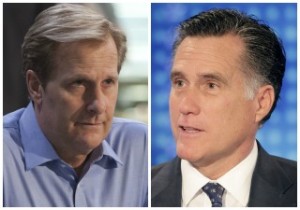 You would think it would fairly self-evident that a work of fiction "doesn't seem to be very close to the truth," but the lines get blurred when you have a TV show dealing with real life events. Case in point, HBO's The Newsroom is rewriting history (sort of) on the 2012 presidential campaign, with one plotline featuring a senior producer slumming it out on the Mitt Romney campaign bus. The portrayal of the Republican campaign is not sitting well with at least one former Romney staffer, who, according to The Salt Lake Tribune, had some choice words for the HBO show.
In the most recent episode of Aaron Sorkin's latest TV project, Jim Harper becomes gradually frustrated with campaign aides stonewalling on questions like "What is Romney's plan?", all leading up to (SPOILER ALERT) what's meant to be a big moment of inspiration where Harper does his version of the "Mad as hell, and I'm not going to take it anymore!" speech, trying to get other reporters to stand up with him and do the job of journalism, dammit!
It ends with him and two other reporters getting kicked off the campaign bus.
Previously, Harper wasn't even to get on the Romney campaign bus because, for some reason, Republicans didn't like it when fictional news anchor Will McAvoy called the tea party the "American Taliban."
Well, former Romney campaign spokesman Ryan Williams would like you to know this work of fiction is nothing more than a… well, you know.
"You all would have heard about that if it had happened" in the real campaign, says Ryan Williams… The show "doesn't seem to be very close to the truth," he adds.

If there was space, Williams says, legitimate news outlets – even those who were super-critical – were welcomed aboard the campaign's press bus or on the campaign planes. At one point, some reporters covering Romney had to take a separate press plane but that was only because so many journalists were traveling with the Republican candidate, Williams notes.
Williams also told the Tribune, "The whole concept seems a little silly to have a fictional account of a campaign that happened in real life."
Williams is, admittedly, not the first Republican to take issue with the show. Utah Senator Mike Lee last year objected to characters on The Newsroom calling him "an extremist hellbent on tossing out a constitutional amendment."
h/t Salon
—–
Follow Josh Feldman on Twitter: @feldmaniac
Have a tip we should know? tips@mediaite.com
Josh Feldman - Senior Editor