Strappuci-No! Starbucks CEO Tells CNN Why He Asked Gun Owners Not to Pack Heat in His Stores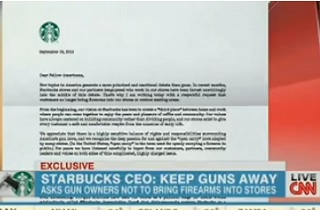 The day after the deadly mass shooting at the Washington Navy Yard thrust the debate over gun regulation back into the spotlight, Starbucks CEO Howard Schultz took a respectful, non-binding stand by publishing an open letter to customers asking them not to carry guns in his company's coffee shops. In an interview with CNN's Poppy Harlow, Schultz took pains to explain that "This is not a ban," because he doesn't want his employees put in the position of confronting gun-toting customers.
In the open letter, to be published in newspapers on Thursday, Schultz explains that this request is not a policy position, but a response to events that he says have drawn his company, unwillingly, into the fray:
Recently, however, we've seen the "open carry" debate become increasingly uncivil and, in some cases, even threatening. Pro-gun activists have used our stores as a political stage for media events misleadingly called "Starbucks Appreciation Days" that disingenuously portray Starbucks as a champion of "open carry." To be clear: we do not want these events in our stores. Some anti-gun activists have also played a role in ratcheting up the rhetoric and friction, including soliciting and confronting our customers and partners.
Schultz is referring to events organized on Facebook, which even included an August 10 armed demonstration at a Starbucks in Newtown, Connecticut, just two miles away from Sandy Hook Elementary School, that forced the store to close early.
In an interview with CNN's Poppy Harlow, Schultz explained his decision, stressing that this is not a ban, nor is it a public policy statement. "I think it's important to start the conversation by framing the fact that Starbucks is not a policymaker," Schultz said, "and in fact, we're not pro or anti-gun."
"However, we do believe that guns should not be part of the Starbucks experience," he continued. "As a result of that, making that decision, we are respectfully requesting that those customers who are carrying a gun just honor the request and not bring the gun into Starbucks."
Schultz also emphasized that "This is not a ban. And the reason it's not a ban is that we don't want to put our own people in a position of having to confront somebody who is carrying a weapon. Those customers who will bring in the gun, we hope they won't, we're still going to serve them, we're not going to ask them to leave."
Here's the video, from CNN's New Day:
[photo via screengrab]
Have a tip we should know? tips@mediaite.com