Fox Anchor And Lanny Davis In Yelling Match Over Equivalencies Between 'Cancer Ad' And Romney's PAC Ads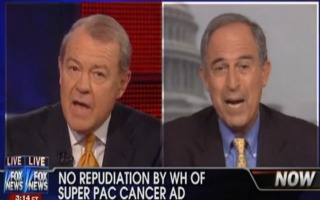 On Friday, former special counsel to President Bill Clinton, Lanny Davis, appeared on Fox News Channel with Stuart Varney for what was teased to be a segment in which Davis would call upon President Barack Obama to denounce the "cancer ad" that links Mitt Romney to a former steelworker's wife's death. The interview quickly became tense, however, when Davis tried to make the point that there were aspersions equivalent to those in the "cancer ad" in spots run by PACs supporting Mitt Romney.

RELATED: Bill Burton Hails 'Wildly Successful' Romney Cancer Ad, Liberal Group Touts Millions In Free Air TimeM
Varney asked Davis what he thought crossed the line in the ad in question that requires President Obama to denounce it.
"The same thing that crossed the line when Mitt Romney used as an ad Barack Obama saying that he didn't understand the economy and forgot to mention that he was quoting John McCain," said Davis. "When Mitt Romney was asked if he was going to repudiate that ad, he said 'what's sauce for the goose is sauce for the gander.'"
"I'm taking the same standard, Stuart, that I expect you to apply to Romney," said Davis.
"I think it's apples and oranges," Varney replied.
Crosstalk ensued as the two shouted over one another.
Once the din died down, Davis insisted that he would not be on the program again unless he was allowed to finish a thought.
"When did Mitt Romney ever repudiate what I just said," said Davis. "He never repudiated that."
Varney went on to say that Mitt Romney rejected ads proposed by a loyal but independent PAC that would have linked Obama to Rev. Jeremiah Wright before they ever ran.
"There is a difference here between the United States President linking his political opponent to the death, cancer death of a woman – and his campaign made that direct link – there is a difference between that and a political candidate who makes a suggestion of an association about economics," said Varney.
Davis contested Varney's assertion that two lies are somehow apples and oranges, but he went on to say that it would not be hard for Obama to call on Priorities USA PAC advisor Bill Burton, who had previously served as White House Deputy Communications Director, to take the ad down.
After making clear that he found this offensive ad equivalent to those of Romney's primary and general election campaigns, he went on to cite a number of inconsistencies and misleading assertions in the "cancer ad."
"He knows perfectly well that misleading is just as bad as false," said Davis referring to Burton. "This ad hurts Barack Obama."
Watch the segment below via Fox News Channel:
> >Follow Noah Rothman (@Noah_C_Rothman) on Twitter
Have a tip we should know? tips@mediaite.com