Student Filming Documentary Describes Sexual Assault by Multiple Men in Egypt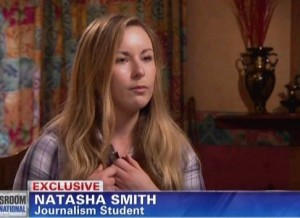 Amid all the celebrating in the streets following the Muslim Brotherhood's victory in Egypt's election, CNN reports today, a young British student was attacked and sexually assaulted in Tahrir Square. Journalism student Natasha Smith was filming a documentary on women's rights in Egypt — her first international project — when she became separated from her two classmates by the growing mob.
"Men started ripping off my clothes," she recalls. "And first of all, it was my skirt. And that just went straight away. I didn't even feel my underwear being removed. And then my shoes went, and… And then my upper, my clothes on my upper half were just being, just ripped off me and it was quite painful."
A CNN rooftop camera caught footage of an ambulance trying to make its way through the crowds to reach Smith, who was being sexually assaulted by dozens of men. She was eventually rescued and taken to a medical tent.
Her classmate, who says he was worried Smith would be killed, shared that the only reason she is alive today is because so many people in the crowd had risked their own lives to get her out of the situation. One man was even able to disguise Smith with a burqa and escort her way from her attackers.
Smith says her case is receiving attention because she's a young British female, but reminds us that there are many, many more unreported and ignored instances of sexual assault across Egypt and elsewhere. She intends to return to Egypt to finish her film.
As CNN's Suzanne Malveaux pointed out, the attack bears some similarity to that of CBS correspondent Lara Logan.
Watch, via CNN:
Have a tip we should know? tips@mediaite.com