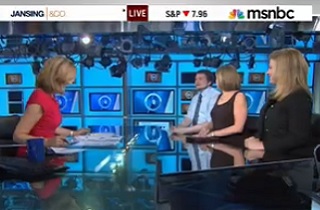 During his 21-hour not-filibuster of a bill to de-fund Obamacare, Senator Ted Cruz killed a few minutes with the story of John Connelly, a Rutgers student having trouble making ends meet, under considerable student debt. While the story Cruz read wasn't exactly related to the law he's trying to defeat, The Huffington Post flagged a segment from MSNBC's Jansing & Co. in which Connolly revealed that he learned of Cruz's shout-out as he was on his way "to an appointment I can only go to because of Obamacare.'"
From The Huffington Post's Sam Stein:
It turns out that Connelly isn't the biggest fan of Cruz. What's more, he is actually a beneficiary of the very health care law that Cruz was protesting during his speech. And in an appearance on MSNBC Friday morning, Connelly explained just how ironic it was that the senator would use his story to bludgeon the president and the Affordable Care Act.

"A friend of mine called me the next morning as I was on the way to an optometrist appointment …. [and said], 'While Ted Cruz was talking about why the ACA's bad, he mentioned your name.' And I said, 'Well, that's funny. I'm heading to an appointment I can only go to because of Obamacare.'"

Cruz had apparently gotten Connelly's story from a recent Wall Street Journal article that focused primarily on student debt, not on health care reform.
Connell went on to tell host Chris Jansing that "It seems a little bizarre that he would even choose my story at all," explaining that "most of the people in the article, if you read it, student debt is mentioned as an issue 13 times. Health care is mentioned once by a person saying he's lucky he has health insurance, and a lot of his peers don't."
While Connelly agreed he was no fan of Ted Cruz, he also went on to pointedly not say he was a fan of Obamacare.
Jansing asked him, point blank, "And for the record, you're a fan of Obamacare?"
"For the record," Connelly said, hesitating, "I would say that I don't think that the most pressing issue facing my generation is the fact that this is being funded."
Jansing didn't follow up, but it seems unlikely, given the context, that any issues Connelly might have with the law come from the right.
Here's what Cruz said about Connelly:
I talked a minute ago about the hope of all of us that our kids have greater opportunity. What does it say that young people are losing hope of even matching where we are, much less having greater prosperity? Just 11 percent of employed young people in a recent Pew survey said they had a career as opposed to "just a job"; fewer than half said they were even on track for one. John Connelly thought he was on the right track in life. The son of a New Jersey auto mechanic, he was the first in his family to go to college when he enrolled in Rutgers in 2009.

I will note as an aside, my uncle went to Rutgers. I went to college, to Princeton in New Jersey, and my uncle was often fond of reminding me that the very first collegiate football game that ever was played in the United States was played between Rutgers and Princeton. At every Thanksgiving, my uncle would then remind me who won and it was Rutgers who won. Princetongot whipped in that Princeton game. I am sure John Connelly is quite aware that Rutgers won the first collegiate football game in the United States. Four years later, the 22-year-old found himself $21,000 in debt, without a permanent job and sleeping on friends' couches in New Jersey and Brooklyn. "I hear a lot of stuff that people in my generation aren't buying cars or houses, and I'm a step beyond that–I can't even pay rent on time," Mr. Connelly says. "I have a hard time planning 10 years in the future when I can hardly plan three months in the future." At Rutgers, Mr. Connelly was an honors student and president of the student assembly. But wary of taking on more debt, he ended up withdrawing from school with three credits to go until graduation. After a summer spent living with friends while working a temporary job at a Brooklyn nonprofit, he found a grant that allowed him to reenroll in school this fall, but he still doesn't know what he will do when he graduates at the end of the semester. "I kind of did everything I was quote-unquote "supposed" to be doing," he says.

I am still reading from the Wall Street Journal:

The costs of a "lost generation" go beyond the impact on young people themselves. A 2012 analysis commissioned by the Corporation for National and Community Service, a federal agency, estimated that the 6.7 million American youth who are disconnected from both school and work could ultimately cost taxpayers $1.6 trillion in lost tax receipts, increased reliance on government benefits and other expenses. Look at broader economic and social effects such as lost earnings and increased criminal activity and the impact tops $4.7 trillion, the researchers estimated.
Have a tip we should know? tips@mediaite.com