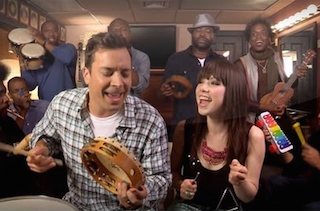 All those goofy games and songs means Jimmy Fallon has less time to spend actually sitting down and talking with his Tonight Show guests. According to a new study, since taking over the #1 late night franchise earlier this year, Fallon has spent 37% of his time interviewing guests, compared to 51% for both of his predecessors, Jay Leno and Johnny Carson.
Stephen Winzenburg, a communications professor at Grand View University and author of TV's Greatest Talk Shows
, put together the study, which also ranked Fallon against his current late night competitors.
Below is the full breakdown, from most "talk" to least:
Conan O'Brien: 53%
David Letterman: 51%
Seth Meyers: 51%
Jimmy Kimmel: 48%
Craig Ferguson: 43%
Jimmy Fallon: 37%
As for what Fallon is doing the rest of the time, Winzenburg determined that 21% of his show's time is spent on the monologue, which does not differ from Leno. But he spends 23% on comedy bits and 14% on music, both significantly higher than Leno. The author notes that Fallon's show more closely resembles Ellen DeGeneres' daytime talk show, on which that host spends 42% of her time actually talking to guests.
Whatever Fallon is doing, it's working. His show has consistently remained on top of the late night ratings since it launched in February. During the second quarter of this year, the Tonight Show beat The Late Show with David Letterman and Jimmy Kimmel Live! combined in the coveted 18-49 demo.
If those shows are paying attention, they may be compelled to try spending less time on traditional interviews and more time on actual comedy in an attempt to catch up to Fallon. If nothing else, it's those non-interview moments that tend get passed around the most online.
[h/t Splitsider]
[Photo via screengrab]
— —
>> Follow Matt Wilstein (@TheMattWilstein) on Twitter
Have a tip we should know? [email protected]