Study: MTV's Teen Mom and 16 and Pregnant Led to 5.7% Reduction in Teen Pregnancies
In recent years, MTV's reality series Teen Mom and 16 and Pregnant have both become targets of culture warriors declaring that the shows "glamorize" teen pregnancy and encourage young women to get themselves inseminated by a guy in the hopes of becoming the show's next miserable star. Contrary to such fears, however, a new National Bureau of Economic Research study finds that the shows may act as a deterrent, contributing to record reductions in teen births.

The new study, coauthored by Wellesley economist Phillip B. Levine and University of Maryland economist Melissa S. Kearney, found that 16 and Pregnant and its spinoff Teen Mom acted as a light of caution for many young women and are responsible for a 5.7 percent reduction in teen pregnancies. That's one-third of the overall decline in teen births during the 18 months following the series inception.
The researchers came to such conclusions after finding that 71% of teenagers have watched the highly-rated cable show, that much of the social media reaction from 18-24 year olds paints the show as "the best birth control," and that the broadcasts resulted in an uptick of web searches and tweets about contraception and abortion.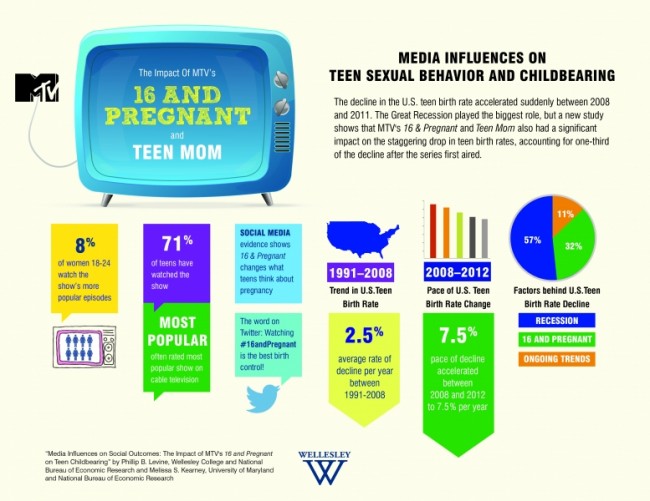 Each episode of 16 and Pregnant follows a different teenager dealing with pregnancy and eventual delivery of their child. The Teen Mom spinoff follows up with those new mothers and often depicts their anxiety-ridden, financially troublesome experiences. Some of the show's subjects have gone on to become "celebrities," but by and large, the researchers said, the show has seemingly acted as a cautionary tale.
Read the full study here.
[h/t NYT]
[Image via MTV]
— —
>> Follow Andrew Kirell (@AndrewKirell) on Twitter
Have a tip we should know? tips@mediaite.com