Really? CNN Reenacts Jodi Arias Killing Her Boyfriend In Full-Scale Model Of His House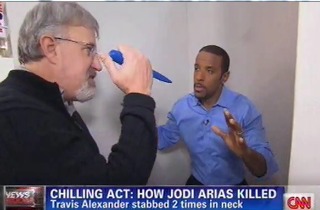 Capitalizing fully on the craze that has overtaken the nation's daytime television viewers, the marathon trial of Jodi Arias for the killing of her boyfriend, CNN broadcast on Tuesday a recreation of the events that took place on the night of the murder. But the scene could not be complete unless it took place in a full-scale recreation of the home in which the murder took place.

RELATED: Watch: New Interrogation Tapes Show Jodi Arias Detailing Breakup With Travis Alexander, Insisting She's Innocent
Playing the part of Arias' slain boyfriend, Travis Alexander, HLN's Ryan Smith was taken on a journey through the events on that fateful night by crime scene investigator Joe Morgan.
Morgan told Smith that he had a theory: Arias stabbed her boyfriend in the back as he was taking a shower. He proceeded to recreate the actions that he thinks Arias took during the salacious and sexually charged events that led up to the murder.
The two investigators then follow what they believe were Alexander's actions in the wake of his stabbing – traveling to the bathroom sink to expectorate blood and eventually bleeding out on the floor of his bathroom.
Both Morgan and Smith agreed that Arias' defense of her actions "makes no sense."
"That is unbelievable stuff," reacted CNN anchor Ashleigh Banfield. "It's the stuff you see in prime time television nightly, dramatized."
Banfield concluded the segment by reminding viewers that they can catch the trial live on HLN and on CNN.com.
Watch the report via CNN:
> >Follow Noah Rothman (@NoahCRothman) on Twitter
Have a tip we should know? tips@mediaite.com