Stunning: What Hoboken Mayor Dawn Zimmer Thinks Should Happen to Chris Christie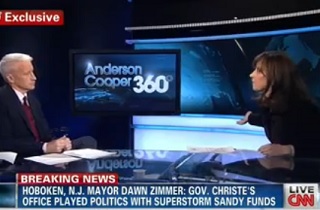 On Saturday, Hoboken Mayor Dawn Zimmer accused Governor Chris Christie (R-NJ) and Lt. Gov. Kim Guadagno (R-NJ) of one of the most reprehensible political acts  imaginable, even for New Jersey: the extortion of political favor in exchange for disaster relief funds. On Monday night's AC360, host Anderson Cooper mainly rehashed the (strongly-denied)  allegations, but also asked a fresh question: "What do you think should happen to Christie? Or to the lieutenant governor?"
Early in the interview, Cooper did put forward a fresh document, an April 23 letter that was not among the documents published by MSNBC in which Mayor Zimmer writes, to Gov. Christie, that "the solution to Hoboken's flooding challenges cannot be dependent on future development."
Earlier in the same paragraph, Zimmer wrote that support for Hoboken's Sandy relief "is absolutely essential both as a matter of fundamental fairness and because it will not be possible to proceed with a variety of development projects that burden Hoboken's infrastructure until the flood problem has been adequately addressed."
In the interview, Mayor Zimmer said that the letter, along with the other documents, demonstrate a "progression leading up to something where they wanted to send me, you know, give me a very direct message because they felt like I wasn't getting the message clearly enough, so she was sent in."
The balance of the interview was mostly variations on things we've heard before, but toward the end, Cooper asked an intriguing question: "What do you think should happen to Christie? Or to the lieutenant governor?"
This is a governor whom Mayo Zimmer has accused of sending his top executive to extort a political favor from her, using relief funds from the worst disaster ever to hit the state as leverage, a storm that left 80% of her town underwater, and stranded tens of thousands of people for days. Zimmer's response was stunning:
"Support my Rebuild by Design competition?"
Given the seriousness of Zimmer's accusations, this is a bit like politely wondering if Hannibal Lecter would consider pairing your liver with a mid-priced Chablis. One of the questions Mayor Zimmer has faced is how she could continue to praise Christie publicly after her encounters with Guadagno and Community Affairs Commissioner Richard Constable. In her interview with Cooper, Zimmer responded to that question by saying that Christie "has done very good things for Hoboken," that he has "done terrific things for the state overall," and that "I do think that he has been a great governor."
If things don't work out for Zimmer in Hoboken, perhaps she should consider a run for mayor of Stockholm, New Jersey.
Have a tip we should know? tips@mediaite.com