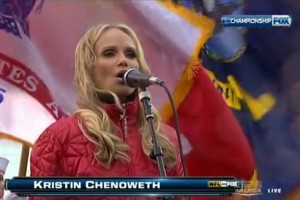 The singing of The Star Spangled Banner at sporting events has long been fodder for viral video moments, and Sunday's NFL Conference Championships were no exception. While Aerosmith's Steven Tyler did his very best impression of a Wookie being castrated, San Francisco 49ers fans showed their true colors by booing New York Giants players as they appeared on the stadium Jumbotron…while Kristin Chenoweth sang the National Anthem.
Tyler's rendition has been getting less-than-rave reviews, but from the looks of it, the American Idol judge was most likely selected to sing The Star Spangled Banner because he was probably there when Francis Scott Key wrote it. I'm not saying Tyler is old, but his first electric guitar was attached to a kite.
In what is surely a sign of the Apocalypse, I find myself in agreement with Fox and Friends' Gretchen Carlson, who said Monday morning that "the National Anthem performance everybody should be talking about is Kristin Chenoweth."
While delivering the best National Anthem performance ever by a singer named for a military vehicle (narrowly edging Bridget Steathbomber's performance at Super Bowl VXI), the Broadway actress was greeted by boos from the crowd whenever Fox's cameras showed New York Giants players onscreen. While the booing is rightly the main source of outrage, the fans' thunderous applause when the 'Niners were onscreen was no less irreverent.
As a lifelong Jets fan, I understand the impulse, but in my state, we're Americans first, and football fans second. We would never think of disrespecting our National Anthem like that. If anything, we're committed to making it even better.
Here's Chenoweth's performance of the National Anthem, via YouTube: (you can see Tyler's here, if you dare)
Have a tip we should know? tips@mediaite.com