Stupidity Porn: Why Alisyn Camerota's CNN Interview With a Nazi Was Radioactively Dumb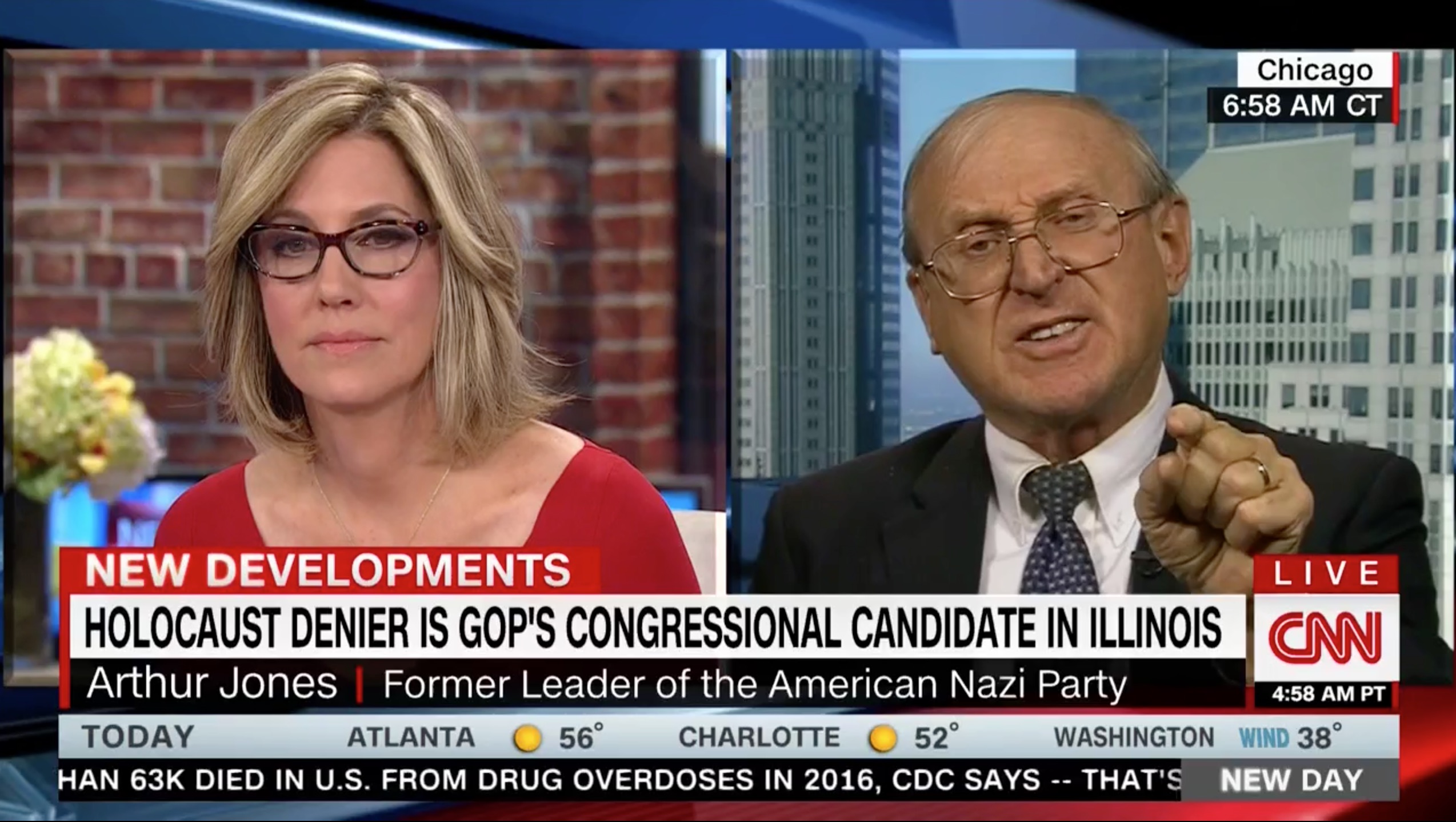 On Thursday morning, something happened that I didn't think was possible — I woke up even more stupid than I did the day before. How is that possible you ask?
Well, like many of you Mediaite readers I decided that I would watch the now infamous segment from CNN's New Day that featured anchor Alisyn Camerota trying to 'gee-golly-gosh' interview known Nazi and potential GOP congressional candidate Arthur Jones about his history of racism and anti-semitism. Before I get to breaking down why this was uniquely terrible, first a little bit of background is required.
As you may or may not know, America's newest Nazi Arthur Jones has recently achieved a fair amount of internet infamy due to the fact that he will likely be the unwanted victor of the GOP congressional primary in Illinois' third district. No, this is not because of the growing yet arguably ever-present racism in the Republican party — both the state and national GOP have condemned Jones — but rather because of a simple technicality: he's the only Republican currently running in his district!
This potential freakshow of a state congressional race has been used by major publications and outlets to simultaneously justify its 'newsworthiness,' only to amplify the existentially dark and stupid existence of Arthur Jones. In a lot of ways, as a local Nazi troll candidate, he couldn't have picked a easier time to receive national media coverage.
Whether they want him or not, there also isn't a more karmic nominee for the GOP at the moment. On a tangible level, this domestic form of useful idiocy is poetic and arguably godsent for political spinning by the media and Democrats. Given this and the current cultural climate, one can forgive the virality of his story. But CNN is a global news organization. This story simply isn't yet serious enough to justify an interview with a obvious cretin candidate whose hobbies include denying the holocaust.
For a supposed and self-presented 'serious' cable news organization to make morning programming out of this mostly one-off, post-Alabama sideshow this early in the midterms is self-defeating and disingenuous in the kindest light — and intellectually pornographic in the worst.
While the rest of the country was either asleep, just waking up, or getting to work, CNN and Alisyn Camerota had already put on their spike-tipped shoulder pads and stepped headfirst into the Thunderdome of Stupidity. If you don't want to waste your time watching it, I'll sum it up for you. The interview is a 7-minute rendition of 'Pin the Tail on the Admitted Nazi' intercut with America's favorite dusted-off game of 'Say Something Racist!' The segment played like something of an homage to vintage Geraldo minus the studio audience and literal broken noses. In fact, if you want to waste your time on equally bad trash TV, give the 1988 Geraldo episode "Young Hate Mongers" a viewing. It's an oddly similar vibe for such a different era and approach to televised presentation.
This segment was beneath CNN, even at its "Well, What Does Jeffrey Lord Think?" lowest. For a news organization that is actively fighting to maintain its integrity in the Trump era, to casually engage in these interviews is to aid in the normalization of absurdity and open racism. If CNN was trying to contrast 'class' with 'crazy', they failed; it came off more like a masterful display of publicly knee-capping yourself. It seemed like CNN invited on a crazy in the timeslot they reserve for crazies just so they could masochistically pretend to be shocked by something outrageous. If CNN is going to operate like this in the morning, they should stop pretending that they aren't intentionally trafficking in hot garbage served fresh alongside their more serious and commendable moments of journalism.
For all of her better days, Camerota's approach to interviewing here was frankly silly. With that said, I don't think it's fully her fault. She had to carry this interview with a straight-face and I'm sure it wasn't her idea. This still doesn't change that the literal first question to come from her mouth when confronted with an actual Nazi was, "Are you a Nazi?" Spoiler Alert: Yes, Alisyn, Arthur Moore is a Nazi — that's why y'all brought him on. To make the dubious questioning worse, it was of course poised after showing 30+ seconds of Jones on video speaking in front of Neo-Nazi and KKK banners about the evils of the "Jew Media." At that point obviously, you don't have to give Jones (the former leader of the American Nazi Party) the benefit of the doubt or allow him to self-define whether or not he's a anti-semite or an "White Racialist."
Camerota went on in the interview and stated with disgust about how she won't repeat Jones' vile racism…while giving Jones a live global outlet to openly spread his racism. At times, the segment played like an sponsored advertisement to google 'Arthur Jones' and his "Too Hot For TV" website that was teased by Camerota. When doing segments like this, cable news is directly at fault for amplifying the profile of modern racists and allowing for society's settled ground to be presented as semi-debatable to viewers. That fault doesn't change just because Camerota wagged her finger and displayed her disapproval. The damage wasn't automatically undone when Camerota acknowledged that Jones is never going to be a real political entity, and that he isn't even remotely supported by the GOP or Trump, unlike failed Alabama GOP Senate candidate and alleged child molester, Roy Moore. It was just bad journalism and a no-win game of spectacle.
In 2018, it shouldn't have to be explained to the premier cable news outlet that interviewing and putting a major network logo next to a racist helps lend more legitimacy to the racist than it does to the news organization. It's a parasitic relationship — the racist becomes the 'As Seen on TV Racist' to be shared and promoted into infinity, while the network loses integrity. Also, by showing interview subjects openly expressing the extremes of racism and bigotry, it does a disservice to the movements that are fighting against more subtle and systemic forms of racism in this country.
In short, what I'm trying to say is that the end result of a morning CNN segment shouldn't be brain diabetes. Cable news outlets in general shouldn't be broadcasting racialized shock segments in the stated pursuit of "truth." Until cable news' more legitimate outlets stop engaging in this sort of televised pig wrangling, the media will continue to descend further into a fractured political reality show.
This is an opinion piece. The views expressed in this article are those of just the author.