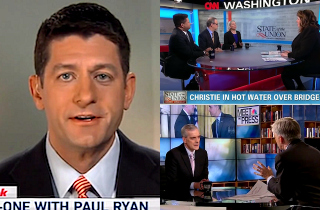 Is Barack Obama running a lawless administration, or an imperial one? This seems to be the sum of the debate within the GOP, with Ted Cruz (R-Laughing Stock) tweeting about Obama's imperialism while Eric Cantor and Paul Ryan run about shouting "lawless" on the Sunday shows. What a 2016 primary that's going to be.

Paul Ryan Doesn't Mean What He Says
The only game in town this week was George Stephanopoulos v. Paul Ryan (R-Dudebro), as Stephanopoulos tried to take Ryan's positions to their logical conclusions, where Ryan was none too happy to follow (on air).
First, Stephanopoulos took Ryan's "the President is lawless!" talking point seriously, asking why, if Obama's lawless so much, the House doesn't just impeach him? Ryan gave that his best "c'mon, bra" scoff:
Next Ryan tried to claim that if you looked at Pope Francis' recent comments about economic inequality while on peyote during a harvest moon, they were actually upside backwards inside-out endorsements of the free market. Once again, Stephanopoulos wisely took Ryan's comments at face value and asked if Ryan therefore believed the Pope would endorse his safety-net-shredding budget (Catholic organizations have pointed out the rather large gap between Ryan's budgets and Catholic teachings before). Ryan acted shocked. "Pope's don't endorse budgets!" Indeed.
Let us never forget that the things Ryan actually stands for are so outrageous people literally don't believe them, probably why Mitt Romney brought him on as a running mate only to then hide him in a cupboard as far away from elderly voters as possible for the rest of the campaign. This is not someone who wants to follow his proposals to the end on national television; good on Stephanopoulos for making him do so.
"Going Small"
Or maybe Obama's administration "going small," in the unforgettable phrasing of David Gregory, who's been assigned some take-home reading. After all, in last year's State of the Union Obama talked gun control, climate change, and health care, and we all saw how well that turned out.
White House Chief of Staff Denis McDonough replied in the key of "If he'd brought all those things up, you'd be asking me if it was unrealistic to raise issues that can't pass Congress." While the GOP is lighting their hair on fire over the tyranny of executive orders, McDonough and company seem to be focused on the things they can get done. After all, there's nothing stopping the House from raising the minimum wage except the House.
I'll Have a 2016 Sandwich on Chris Christie Toast
These CNN panelists attempt to one-up each others' political obituaries for Chris Christie was pretty enjoyable, but the take home was that many, pace Josh Marshall, now believe that Christie is toast even if he had nothing to do with the George Washington Bridge lane closures.
[Image via screengrab]
——
>> Follow Evan McMurry (@evanmcmurry) on Twitter
Have a tip we should know? tips@mediaite.com