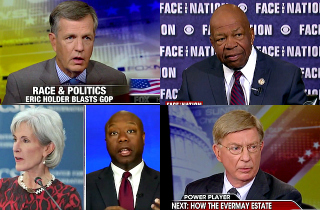 The Obama administration has made it clear it's not taking a victory lap on the 7 million-plus Affordable Care Act sign ups (an act of restraint not entirely voluntary), but there was nonetheless something of the valedictory to outgoing Health and Human Services Secretary Kathleen Sebelius' exclusive on Meet the Press, and to Representative Elijah Cummings' (D-MD) full-throated defense of her:

"I am glad that Secretary Sebelius was able to accomplish all the things she set out to do. Keep in mind, she was with the president from the very beginning of doing what no president has been able to do in over fifty years—that, is bring health care to people who do not have it. She set a goal of 7 million people signing up for private health care, she got 7.5 million. 3 million others [through] extended Medicaid."

[snip] "She accomplished a lot with regards to healthcare disparities, women health. And she has brought us closer to an HIV/AIDS free generation than anyone. She has accomplished a lot. And now she hands the baton off to a wonderful public servant, Sylvia Burwell, of OMB."
Compare that to Sebelius' critics, for whom Senator Tim Scott (R-SC) can stand as a nice proxy: "There's no doubt that she had to go," Scott said on Fox News Sunday. "When you think of Healthcare.gov being synonymous with failure, there have to be changes."
But that's the thing: it no longer is. The site runs, and the ACA reached its first year enrollment goal; indeed, the second would not have been possible without the first.
Meanwhile, Fox News Sunday limped over to the tired IRS scandal, and then to faux-outrage about Eric Holder's remarks, culminating in Brit Hume declaring Obama and Holder lucky for being black, and George Will accusing liberals of not having had a new idea in 50 years, an odd comment from a guy standing astride history yelling stop.
So Sunday's scorecard: Kathleen Sebelius: 9.3 million newly insured people. Conservatives: stale carping about the IRS and race baiting. Who won here?
[Image via screengrab]
——
>> Follow Evan McMurry (@evanmcmurry) on Twitter
Have a tip we should know? [email protected]