Sunday Show Round Up: The GOP Is Already Having a Meltdown over Hillary Clinton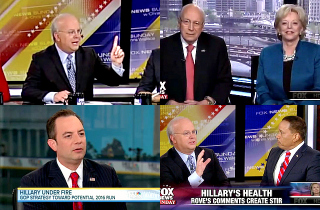 With Bush and Obama Derangement Syndromes, the executive-turned-open wound had to actually take office before he festered. But presumed queen of 2016 Hillary Clinton is driving an over-primed GOP round the bend ahead of schedule.

From the moment Karl Rove was "caught" speculating on the structural integrity of Hillary Clinton's brain, your humble scribe reasoned the gauche comment was intended to shimmy Clinton's age into the national convo, even if it meant Rove had to make himself the butt of a news cycle or two. I still think that, but Rove's doing such a frantic cleanup job that I wonder whether he underestimated the intensity of the reaction; the sputtering spinmeister below resembles the one that melted down on-air the night of the 2012 election, a specter that's become shorthand for a party hack outliving his own narrative in real time. Fox's leftist sentinels Juan Williams and Kirsten Powers spent this segment begging Rove to stop, for his own good:
Meanwhile, Lynne Cheney still believes — still! — the Clintons machinated Monica Lewinsky's Vanity Fair piece to get it out of the ahead of the 2016 election. Still! Chris Wallace declined to ask her for any evidence that this happened, or even for a credible theory as to how it could have happened; that Cheney believed it to be plausible was good enough for Fox News Sunday. This is the essence of conspiratorial thinking, in which the slightest possibility of an event's occurrence becomes irrefutable proof of its certainty. Look for Fox & Friends to report this as "some people are asking questions."
But the right sounds unable to help itself. RNC Chairman Reince Priebus, basically the GOP's middle reliever, thinks this is all the Democrats' fault for nominating Clinton in the first place, which they haven't yet:
"My view, though, is given the month she just had, I actually doubt whether or not she will run for president in 2016. I know a lot of people around her want her to run, and I think that they're purposely creating this environment around here which is causing us to talk about her today."
"The Democrats are forcing us to criticize Hillary Clinton" is an odd defense, implying as it does that the Republican Party is so weak it can't withstand a few Hardball segments. If that's true, Hillary Clinton's head should be the least of the GOP's concerns.
[Image via screengrab]
——
>> Follow Evan McMurry (@evanmcmurry) on Twitter
Have a tip we should know? [email protected]