Sununu Apologizes For Saying Obama Should Learn To Be American, Attacks Him For Denigrating American Values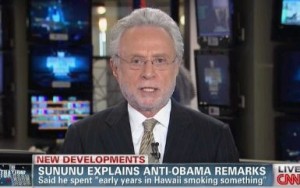 John Sununu, surrogate for Mitt Romney's presidential campaign and former New Hampshire governor, appeared on CNN with Wolf Blitzer on Tuesday to apologize for comments he made earlier that day in which he said President Barack Obama needs to "learn how to be an American." However, he took aim at the President for saying at a campaign stop that the success of entrepreneurs is due, in part, to public sector investments. Sununu described Obama's comments as "denigrating American values."

RELATED: Romney Surrogate: Obama Has 'No Idea' How America Works, 'Spent His Early Years In Hawaii Smoking Something'
Sununu was asked to explain why he said that President Obama should "learn how to be an American" on a conference call with reporters on Tuesday. Sununu told Blitzer that he was responding to President Obama's controversial remarks from the past weekend where, as Sununu characterized it, Obama told small business owners that they "shouldn't take credit for building their businesses."
"I was making the point that in America entrepreneurs deserve credit," said Sununu. "Instead of saying that he's got to learn the American formula for creating jobs I did say those words that are there and frankly I made a mistake. I shouldn't have used those words and I apologize for using those words." Sununu said, however, that he will not apologize for saying that President Obama does not understand how to create jobs.
Blitzer then asked Sununu to weigh in on a comment he made about Obama not understanding how to create jobs because "he spent his early years in Hawaii smoking something."
"The president has to stop denigrating American values," said Sununu in his defense. "He's sending a wrong message to the young people of America that if you get rich you are somehow evil." He went on to say that Obama's lack of experience in the public sector is partially responsible for bad policy coming out of the White House.
Blitzer asked Sununu about the 4 million jobs created during his tenure as President, which the former New Hampshire governor said was insufficient. Blitzer pushed back that the Bush administration presided over pronounced collapse of the job market. Sununu replied that the recovery should be the mirror image of that financial collapse but the recession continues to persist.
Blitzer cornered Sununu and asked if he thought Obama was a socialist.
"I didn't say he was a socialist,' said Sununu.
"I just asked if you were among those who thinks he is a socialist," Blitzer clarified.
"No, but what I'm telling you is that he ought to be worried that he's making small businesspeople feel that way," Sununu replied.
Finally, Blitzer asked why, if the President was so anti-business, the stock market was doing so well and businesses were sitting on their profits and not investing in growth. Sununu replied that those companies are "scared to death" that Obama would be reelected. If he is, Sununu says, those profits are going overseas.
Watch the segment below via CNN:
> >Follow Noah Rothman (@Noah_C_Rothman) on Twitter
Have a tip we should know? tips@mediaite.com