Super Bowl Slackliner Andy Lewis Shocks CNN's Brooke Baldwin With His 'Balls Of Steel'
Super Bowl Slackliner Andy Lewis Shocks Brooke Baldwin With His 'Balls Of Steel'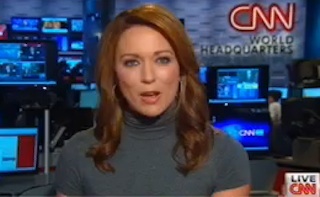 The Super Bowl slacklining sensation Andy Lewis AKA Sketchy Andy spoke with Brooke Baldwin during Tuesday's CNN Newsroom, and caught her off-guard when he told her he had battle-tested gonads. "Andy, I have to ask a question off the top that a lot of people are wondering. The first thought I had was, wow! The second being ouch! Doesn't that hurt?" "I actually just — I just made a video that you can view on YouTube right now. It's called Andy Lewis: Balls of Steel!" Lewis exclaimed. "You should check that out!"
RELATED: Slackline Pro Andy Lewis Steals Show During Madonna Super Bowl Performance
Lewis's frank talk of his testicular fortitude shocked Baldwin, who was visibly flustered from his bluntness.
"I'm going to move on!" Baldwin demurred. "We don't need to get specific, I'm just asking if you're okay!"
Baldwin noted that the Super Bowl was small potatoes for Lewis as he's slacklined over cliffs. Lewis said it took a lot of preparation for him to take it to that level.
"You start low to the ground and you say, hey, I could probably walk a slackline that's a little bit higher, then you go to ten feet, 50 feet and then 100 feet!" Lewis explained. "After a while, it doesn't matter how high you are, it's more of a mental thing than a physical thing. It's more a mental journey of trusting yourself with death as a risk."
Watch below via CNN:

And check out Lewis's Balls of Steel video on YouTube:
Have a tip we should know? tips@mediaite.com