Sure, Some People Don't Like Donald Trump, But Eric Bolling Thinks He 'Represents The New GOP'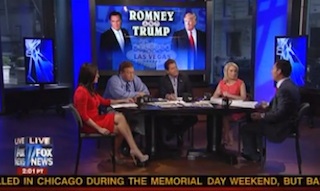 It looks like today was our bi-monthly Everyone Talk About Donald Trump For Some Reason Day, a special day that we've gotten to celebrate every couple of weeks for the past few years. However, unfortunately for our favorite reality show star/occasional presidential candidate, most of this coverage hasn't been that great. In fact, a lot of people on TV (and on this website) have been proposing the idea that Trump might not be the best thing for Mitt Romney's campaign. Fortunately, we've got some of The Five to help him out, explaining why the Donald is actually the best thing to happen to the GOP since the deregulation of the sliced bread industry.
RELATED: Donald Trump Doubles Down On Birther Nonsense, Gets Flogged By Wolf Blitzer
Trump is, of course, a good friend of The Five (as well as guest host Brian Kilmeade's regular gig). In fact, he's so chummy that he apparently used to call the hosts at night to give them notes on their coverage. So it's not surprising that they're fond of the guy. So, for all of you Trump Super Fans out there, here are some of their most positive quotes than you can use in your own Trump defenses.
For the full Five experience, after reading each one of these, imagine Bob Beckel either scoffing, laughing out loud, or looking more and more like his head is going to explode.
Man, I am really glad Beckel didn't have a full on heart attack when Kilmeade broke out that "blue collar" comment.
Watch the segment from Fox News below:
Have a tip we should know? tips@mediaite.com