ABC News editor Don Ennis, 49, reportedly walked into his New York City offices last week in a small black dress and a brunette wig and told his coworkers that he would prefer to be called "Dawn" from this point on. On Friday, the father of three announced that he was breaking up with his wife of 17 years and is legally changing his name to Dawn Stacey Ennis.

According to a report in the New York Post, Ennis took to her Facebook profile and declared that he was starting over:
"Please understand: This is not a game of dress-up, or make-believe. It is my affirmation of who I now am and what I must do to be happy, in response to a soul-crushing secret that my wife and I have been dealing with for more than seven years, mostly in secret."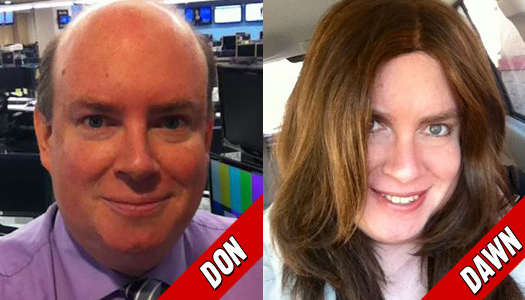 Ennis said that she had always suffered from an "unusual hormonal imbalance" because his mother had forced her to take female hormones as a child to "prolong her acting career." Ennis said the hormones made her appear and sound younger, but also resulted in the development of breasts.
RELATED: Megyn Kelly Tells Bill O'Reilly Dr. Keith Ablow's Anti-Chaz Bono Piece 'Irresponsible And Dangerous'
Ennis has moved out of her home with her wife and three children, but she says that they are supportive of the decision.
"Despite the heartbreak, [Wendy] has encouraged me to start this new life that we both believe better fits who I now am," Ennis wrote.
Read the full report via The New York Post
> >Follow Noah Rothman (@NoahCRothman) on Twitter
Have a tip we should know? [email protected]