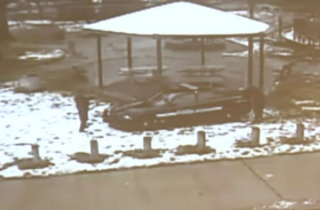 Cleveland Police released truly harrowing video Wednesday showing a rookie officer's fatal shooting of 12-year-old Tamir Rice. The video shows that despite initial police claims that the young boy was repeatedly told to put his hands up, Officer Timothy Loehmann shot him "one-and-a-half to two seconds" after confronting him at a park.
Rice was holding a toy pellet gun in the park when a 911 caller reported a "guy" at the recreation center pointing a gun — "probably fake," he said, "but it's scaring the shit out of me." Surveillance footage shows Officers Loehmann and Frank Garmback, who was in the driver's seat, speeding up to Rice's location and shooting him almost immediately upon arrival.
The teenager died of his wounds the next day.
In their initial report following the incident, a Cleveland Police spokesman claimed that upon arrival, the "officers located the suspect and advised him to raise his hands," and when Rice did not comply "and reached to his waistband for the gun," the officers fired at the suspect, striking him in the torso.
In the press conference accompanying the video's release, the department's deputy chief said the officers did not use a megaphone to warn the boy to drop his pellet gun. When asked why the dispatchers failed to communicate the "probably fake" aspect of the gun to the officers, the deputy responded: "We need to get that information to that zone car. That is part of our investigation."
Both of the responding officers have been put on paid administrative leave pending full investigation.
Watch the video below [WARNING: May be disturbing]:
Here's a photo of Rice:
Tamir Rice: The following is a photo of the child shot & killed by a Cleveland Police officer http://t.co/iax0yfmJqE pic.twitter.com/I5kMSZZilX

— WEWS NewsChannel5 (@WEWS) November 23, 2014
And the toy gun he was holding:
BB gun Cleveland police said a 12yo boy pulled from his waistband before they shot him. http://t.co/UeLXI01nEH pic.twitter.com/J4Sc1pdP36

— Cory Shaffer (@cory_shaffer) November 23, 2014
— —
>> Follow Andrew Kirell (@AndrewKirell) on Twitter
Have a tip we should know? tips@mediaite.com