Now that Pres. Barack Obama got his Nobel Peace Prize victory out of the way, it was time to bomb the Moon. As predicted on Office Hours yesterday, the entire event, taking place this morning at 7:30amET, was mostly hype, at least in terms of usable video.
Still, every cable and broadcast news morning show took it live, with team reporting. Here's a look at how each show dealt with the anti-climactic Moon bombing:
On CNN, John Roberts didn't have beautiful video, but he did have jokes: "Crashing into the Moon, I guess, is a big scientific deal, but it's a lot easier to crash into the Moon than it is to land on the Moon." Also, CNN was the first network to jump back to the original NASA animation they've been using all week, since the actual video was pretty unclear: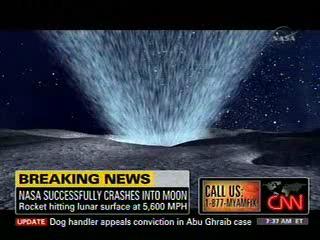 Fox News had reporter Claudia Cowen at some viewing party where the people were "crazy about the moon," according to Steve Doocy. How crazy? "Did you see the impact just now on the big screen?" asked Cowan to a guy in afull Star Trek uniform. "They said it impacted but i didn't see anything," he said: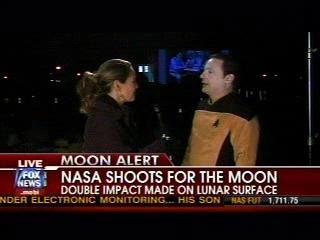 MSNBC's Morning Joe team, which had been laughing up the Nobel Prize win all morning, enjoyed their two-shot. "The rocket has successfully crashed into the Moon. The wires are reporting that," said Joe Scarborough. "Of course, Mika asked me where the rest of the Moon was in that shot, fearing that it has sheered off about one-eighth of the Moon.":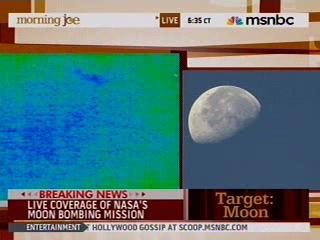 On broadcast TV it was more of the same. Diane Sawyer on ABC's GMA didn't know what to do with some images that didn't add much to the story. "So, it has hit. And they have an Infrared picture. But I gather they are waiting for the next phase, the analytical machinery to kick in.":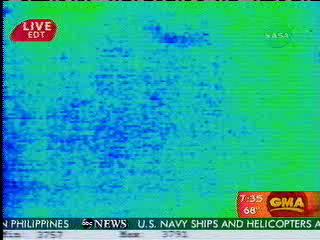 CBS' The Early Show was first to jump out of their live shots, mainly because they had their own visual set-up. Harry Smith and CBS News' Space Analyst Bill Harwood stood around a Moon. "It's flopped in there. So we didn't get much picture out of that," said Smith. "Not yet," said Harwood: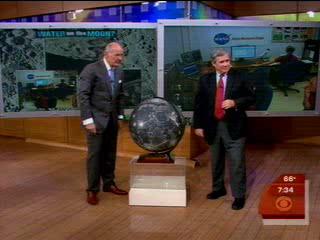 And on NBC's Today show, Tom Costello probably summed it up best: "I've got to tell you, at the moment, I think a lot of people are going to be disappointed. They truly believed that this satellite was going to be providing some spectacular images of the plume, and we don't see that."
Later, Matt Lauer admitted, "Maybe that was oversold in this particular case." Costello: "Well, for all of us. I think we're all a little bit stunned that we didn't see more.":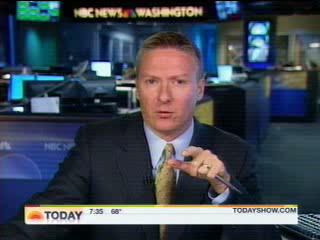 Moral of the story: next time we bomb the Moon, we need better pictures and video!
—–
» Follow Steve Krakauer on Twitter
Have a tip we should know? tips@mediaite.com