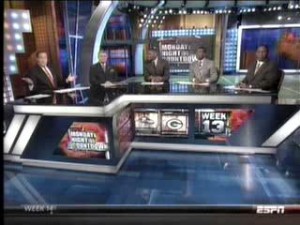 After a very close vote in week one of Survivor: Monday Night Countdown, Stuart Scott was the first member of the team you voted off the show. Matt Millen, Chris Berman were right behind.
But it's a new week! Let's take a look at went down before the Ravens got picked apart by the Packers, and prepare for Tribal Council #2.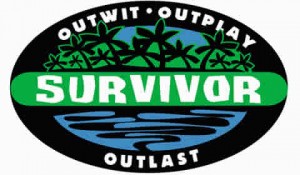 Again, with the rules – since there are too many people on the studio show before Monday Night Football, we're going to work together to vote a bunch of people off. You can vote as many times as you want, and this week, the top two vote getters will have their fire-sticks extinguished.
Here's a look at who remains on the Monday Night Countdown island, and a quote from each during last night's show:
The main studio team:
• Chris Berman – "Watch this Eli Manning, Brandon Jacobs, like the Flintstones mobile. De-de-de-de-de. Once he gets rolling, look out! North, south! Boom!"
• Tom Jackson – "What is Brandon Jacobs 40-time, Boom? How is it that no Cowboys can run down Brandon Jacobs? Just throwing it out there."
• Mike Ditka – "Donald Driver – he's averaging about 16 yards a catch now. I don't know, guys, you understand what that is. That's pretty big stuff in the National Football League."
• Keyshawn Johnson – "I think they both should try to go undefeated. I think you play your players within the structure of the game."
• Cris Carter – "If you look at the guys they have on this football team you don't see a lot of distractions off the football field. And Jerry Jones hasn't said anything outlandish…lately."
The field talkers:
• Stuart Scott – VOTED OUT
• Steve Young – "It's not that cold, let's be honest. It's not windy, the field is heated…I got a couple."
• Matt Millen – "What happened to the Ravens is, really, they got away from the recipe. That's really what happened to them. They've got a young quarterback, and they're like, Steve you're exactly right, 'Boy we've got a real, live quarterback, what can we do with him?'"
The Monday Night Football anchor team (they count – they're involved in the show. If they get voted out, they don't have to leave MNF, just the pre-game show)
• Mike Tirico – "Remember the '07 championship game they played here against the Giants, how cold it was? In that run run over the last four years, they've had the youngest team in the National Football League."
• Ron Jaworski – "It's not going to be a Joe Flacco game this evening. They're not going to be that throw ball team that they were early this season."
• Jon Gruden – "Normally when I see a top-ranked different, I don't see a three rookies making key contributions. But when you look at the Packers, two of these guys start at outside linebacker."
The inside guys:
• Chris Mortensen – DNP! "Injured" this week.
• Adam Schefter – "We hope that Mort's on the field soon, after being deactivated tonight."
The field reporters:
• Suzy Kolber – "Tonight they have to be more physical than this Packer team, and they will run the ball."
• Michele Tafoya – "Over the last two games he's gone down just three times total. That's a notable improvement. Part of the reason, in those last two games, they had the same five starters on the line, and they'll have those same five guys starting again tonight."
Take your picks – two are getting the axe this week. Vote as many times as you want…


—–
» Follow Steve Krakauer on Twitter
Have a tip we should know? tips@mediaite.com