Susan Rice, Is There Benghazi Info That Hasn't Come Out Yet? 'Dang If I Know'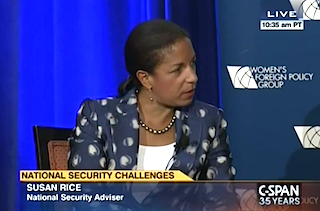 On Wednesday, PBS' Judy Woodruff asked National Security Adviser Susan Rice if she thinks there is any more information a House Select Committee could discover about the Obama administration's response to the 2012 attack on the U.S. consulate in Benghazi. Her answer? "Dang if I know."
Rice, who has been at the center of the controversy over the Benghazi attack after she acted as the voice of the administration on the Sunday morning talk shows following the incident, betrayed more than a little frustration with her statements at the Women's Foreign Policy Group lunch.
"I mean, honestly, the administration has produced, I think, 25,000 pages of documents, or 25,000 individual documents," Rice said. "They've supported, participated in, contributed to the investigations of, you know, seven, I think, different committees. We have had an accountability review board by a very distinguished group of outsiders. You know, House and Senate committees have pronounced on this repeatedly. So, it's hard to imagine what further will come of yet another committee."
Instead of focusing on the White House talking points in the days after the Benghazi attacks, Rice said her job is to focus on making sure all the U.S. embassies and consulates around the world have the funding and security they need today.
"We have a budget request on the Hill for $4.6 billion that is necessary, in the administration's judgment, to make the kind of upgrades and provide the kind of security that our facilities need. Let's focus on that," Rice added. "Because what is lost in all of this discussion about Sunday shows and talking points is that we lost four brave Americans on that day, and their families and those of us who work with them continue to grieve. And the last thing we need to do is to lose any more."
Watch video below, via C-SPAN:
[Photo via screengrab]
— —
>> Follow Matt Wilstein (@TheMattWilstein) on Twitter
Have a tip we should know? [email protected]