Suspect 2's High School Classmate: He Was An Honors Student, Star Athlete, 'He Was Just One Of Us'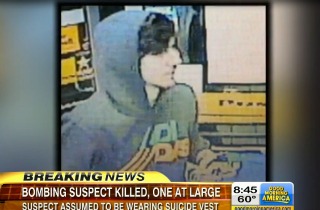 Sierra Schwartz, a former classmate of "suspect two," Dzhokhar Tsarnaev, appeared on ABC News on Friday morning where she said that the suspect in the Boston Marathon bombing was a normal kid when they went to school together. She said it was shocking to hear that her classmate, someone who had never seemed anything other than a "quiet" and "shy" person, could commit the attack on marathon watchers.

RELATED: Is This A YouTube Video From Boston Bombing Suspect Dzhokhar Tsarnaev?
"He was always a very nice, kind of, funny guy, so this is incredibly shocking and absolute horrifying," Schwartz said. "He was quiet, kind of shy."
"He never seemed like the kind of guy who could ever do this," Schwartz said.
"How Americanized was he?" asked George Stephanopoulos. "Did he ever talk about where he came from?"
"No," Schwartz replied.
She said that Tsarnaev never talked about his family or background while they were in acting classes together at the respected public school Cambridge Rindge and Latin.
"It's very shocking for all of us," Schwartz said.
"When was the last time you saw him?" Stephanopoulos asked.
"I saw him in Cambridge," Schwartz answered. "The summer of 2011."
"This is not someone who, you know, seemed troubled in high school or shy – he was just one of us," Schwartz observed. She said that Tsarnaev avoided talking about his family to the point that he never mentioned having a brother, identified as the deceased "suspect one."
Schwartz said he was an honors student, an accomplished athlete, and someone with a lot of friends as a high school student.
"I just hope they catch him," Schwartz concluded.
Watch the clip below via ABC News:
An earlier version of this post reported the Cambridge high school Tsarnaev attended as a private school.
> >Follow Noah Rothman (@NoahCRothman) on Twitter
Have a tip we should know? tips@mediaite.com