Symbolizing White House Shake Up, Fox & Friends Puts Admin. Officials On Giant Chess Pieces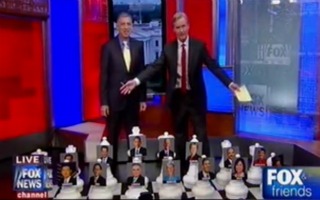 Fox & Friends host Steve Doocy invited former advisor to Vermont Gov. Howard Dean, Joe Trippi, on the program to discuss a possible shake up in the Obama White House. Trippi used oversized chess pieces with the images of White House cabinet secretaries and staffers to represent the current administration and moved those pieces around, presumably, as Obama would in a hypothetical second term.

RELATED: President Obama Pays Less In Taxes Than His Secretary According To Report
"First of all, you're not saying that these people should be fired," said Doocy.
"[Obama is] not going to do this because it would make no sense before the election to put out there that anybody's failed in his administration," said Trippi. "I think some of these changes are going to happen between his election and his second inaugural."
First, Doocy held up a bishop piece with a picture of Sec. Hillary Clinton on it.
"She's already telegraphed that she doesn't want to stay around for a second term," said Trippi. "I think in that sense, [Sen.] John Kerry – who is Chairman of the Senate Foreign Relations Committee – is likely to be who you see as the next Secretary of State."
Doocy then replaced Clinton's bishop piece with a similar bishop, this time with an image of Sen. Kerry on it.
Doocy then brought the second bishop, Treasury Sec. Tim Geithner, who Trippi said is another cabinet secretary who has signaled their intention to move on from the Obama White House after the first term.
"I'd like him to pick Bill Gross of Pimco," said Trippi. "He is very knowledgeable about the economy, about the bond market and would signal to banks there's a new sheriff in town."
Doocy brought out a knight piece with Attorney Gen. Eric Holder on it, which Trippi said Obama was unlikely to replace. "But if he did, I think it will be [U.S. Attorney] Preet Bahara," said Trippi. He said that Bahara has prosecuted many high profile cases and would be a "great pick" to replace Holder.
Energy Sec. Steven Chu, gracing the face of a pawn piece, was up next. Trippi said he, too, is unlikely to be replaced in a second term. If he was, Trippi said it would be Navy Sec. Ray Mabus. "He's on the board of the biggest battery maker of the world, and given the push of how batteries are going to run the rest of the economy – future cars and other things – he would be a good pick there," said Trippi.
Trippi said that many changes in the Obama White House would not occur before the November election.
Watch the segment below via Fox News Channel:
Have a tip we should know? [email protected]