Syrian Rebel Leader Calls Putin a 'Terrorist' on Fox, Encourages U.S. Intervention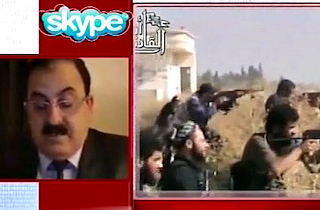 General Eng Salim Idris, head of the Free Syrian Army, the rebel forces that have been fighting Syrian President Bashar al-Assad's forces in two year long civil war, spoke via Skype to Fox News Friday morning, telling host Martha MacCallum that Assad had massacred his own citizens with Russian artillery, and rebuking Russian President Vladimir Putin's claim that rebels had used chemical weapons to provoke an international response.
"President Putin is lying and he was lying at the beginning of the revolution in Syria," Idris said. "He knows exactly that the regime is killing our citizens. He knows exactly that the regime is killing the civilians, and is using the Russian weapons and ammunition, and Russian jets, Russian tanks, Russian missiles, to destroy all the liberated area, to kill people everywhere. This man, President Putin, is a terrorist. He is trying now to deceive the international community."
"All the people in the world now, even Bashar al-Assad, knows he's killing people, that he is killing citizens," Idris continued.
MacCallum asked about a picture published by the New York Times of rebels holding guns to captured Syrian army members. "It's a very troubling picture for Americans, when they consider aiding the opposition," she told him.
"This video and this picture is very old, it's more than one year old," Idris said. "It is before the building of our new command, and chief of staff, and Supreme Military Council, and we don't have any responsibility for such [inaudible] who behave like that. It is very important now to say to our American friends that there are a lot of groups in Syria, [inaudible], who will do something illegal and promote videos and send it to an international media center to make the liberation army look very bad."
Idris defected in 2012 and was appointed Chief of Staff of the Free Syrian Army's Supreme Military Council in December. He said he was "very thankful" for Obama's decision to intervene into the Syrian conflict, and pledged that any weapons received would go to the "right hands"—defected Syrian officers and Syrian citizens—and not radical Islamic groups.
Fox lost connection with Idris midway through the interview, but later regained it. Watch the videos below, via Fox News:
——
>> Follow Evan McMurry (@evanmcmurry) on Twitter
Have a tip we should know? tips@mediaite.com