Tagg Romney Tells Fox & Friends 'Stupid And Cowardly' Attack On Boston 'Makes No Sense'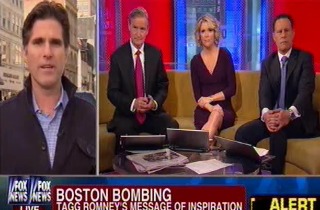 Son of former Republican presidential nominee Mitt Romney and Boston-area native, Tagg Romney, joined the hosts of Fox & Friends on Tuesday to discuss the tragic bombing of the Boston Marathon. He said that Boston is a resilient city and the "cowardly" perpetrators of this attack will not be able to dampen that resilience.

RELATED: Boston Marathon Bombings Happened On Patriots' Day — What Exactly Does That Celebrate?
"What's your message to the people looking in at what happened to your town yesterday?" asked host Steve Doocy.
"It's just horribly tragic," Romney said. "Boston is a city that celebrates sports, and history, and culture, and Patriots' Day for Bostonians is the convergence of those three things."
Romney called the bombing a "stupid and cowardly act." He said he had concluded that "Boston is a resilient city" and "we will come together."
Megyn Kelly said that the perpetrators of this act wanted to change how Americans live their lives, but they have probably underestimated Bostonians and Americans.
"One of the things that makes this country great is that when things get tough we pull together," Romney replied. "It was interesting comparing the cowardly act of the bombers – or bomber – to the courage of the first responders who rushed to the scene."
"I think you got it right," Doocy responded. "You said coward twice. They were – he was."
"This makes no sense," Romney concluded. He said that his parents, Mitt and Ann Romney, are concerned for all the victims of this attack.
Watch the interview below via Fox News Channel:
> >Follow Noah Rothman (@NoahCRothman) on Twitter
Have a tip we should know? tips@mediaite.com