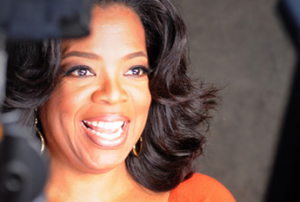 Was anything else on? The debut of Oprah Winfrey's new Oprah Winfrey Network–OWN–was the curiosity of the New Year's weekend, attracting respectable ratings, but making monster increases versus the cable channel OWN replaced, Discovery Health.
The welcome ratings news comes after plenty of criticism and some predictions that OWN would ultimately succeed.
When OWN launched at noon on New Year's Day, a preview show posted a .7 household rating, according to Nielsen figures reported by The Hollywood Reporter.

As THR's Marisa Guthrie notes, that relatively small number hides a major industry success story:
That may not sound like much, but considering that it's a 555% gain compared to the same time period four weeks ago and 1100% gain year-to-year, Winfrey and her team are probably breathing their first sigh of relief.
By the time OWN got to its first foray into primetime programming, ratings climbed to a 1.0 at 8 p.m., for increases of about 500 percent versus four weeks earlier and year to year. In prime, OWN did well among key demographics–the numbers most important to advertisers–with half a million viewers 25-54.
That was far better than Discovery Health's year-ago averages for the night; 92,000 in 18-49 and 118,000 in 25-54. Among OWN's target demographic of women 25-54, the network averaged a .9 rating (with 1 million total viewers) in primetime on Jan. 1. That helped propel OWN to the third most-watched cable network for the night (behind ESPN and USA) in the 8 and 9 p.m. hours. But by Sunday, OWN's household number was down 33% in primetime.
Have a tip we should know? tips@mediaite.com