'Talent, Guts And Glory': Watertown Police Chief Tells CNN The Riveting Story Of Bombing Suspect Capture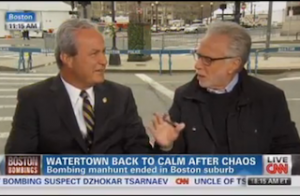 CNN's Wolf Blitzer sat down Saturday for an extensive debrief interview with Watertown Police Chief Edward Deveaux that covered nearly every aspect of the whirlwind couple of days that this small Massachusetts suburb endured, culminating with the capture Friday night of Boston Marathon bombing suspect Dzokhar Tsarnaev.
Deveaux described to Blitzer the dramatic moments when the police on the scene in Watertown were able, through the use of "flashbang" grenades and a negotiator, to get the suspect to surrender peacefully from the boat in which he was hiding, and show that he was not wearing any explosive devices as they had feared. Only after Tsarnaev lifted his shirt to show that he had nothing on his body did police rush in and detain him.
The 30-year police veteran also explained to Blitzer how the Tsarnaev brothers ended up in his town of Watertown in the first place, after they had carjacked a civilian's SUV in Cambridge. He described the dramatic scene in which approximately 200 rounds were exchanged between the suspects and the Watertown police officers, as well as a pressure cooker bomb very similar to the one used in the original marathon bombing event that was hurled at police. Deveaux confirmed that the suspects had handguns, a rifle and at least six bombs, three of which exploded during the shootout. "How the Watertown police aren't attending a funeral of our own," Deveaux said, "based on what happened on that street over that period of time is just talent, guts and glory."
Deveaux also revealed new details about the moment that the older suspect, Tamerlan Tsarnaev, was run over by his younger brother Dzohkhar. He explained that Tamerlan had run out of ammunition during the firefight with police, allowing them to run in and tackle him and try to get him in handcuffs. As Deveaux described it, at that moment the highjacked SUV, driven by Dzohkhar came speeding towards the officers on the ground, who dived out of the way before the SUV ran over Tamerlan. By Deveaux's account, it was the younger brother Dzohkhar who effectively killed his older brother Tamerlan by running him over.
Deveaux also assured the city of Boston that the investigation is not looking for any additional suspects, saying, "we got our two guys." He expressed relief and pride in his officers for the work they did over the last 48 hours, saying, "I could not have been more proud when I drove home last night to be part of such a profession."
Watch video below, via CNN:

—
>> Follow Matt Wilstein (@TheMattWilstein) on Twitter
Have a tip we should know? tips@mediaite.com