'Talk to Jay': President Obama Conspicuously Skips TV Reporters at Press Conference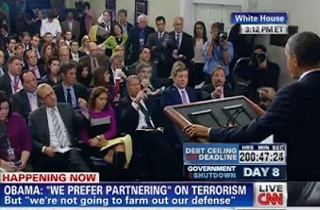 President Obama gave a rare unscheduled press conference in the White House's Brady Briefing Room Tuesday afternoon, a presser which was sparked by the current government shutdown/default crisis, but which covered a broad array of topics. Also remarkable was that during the hour-plus presser, the President didn't take a single question from a TV reporter, and at one point told them "I'm just going through my list, guys. Talk to Jay."
The  President directed his comment in the general direction of the right side of the front row (where Fox News' Ed Henry sits, just as a random point of reference), and motioned toward a grinning Jay Carney, White House Press Secretary.
That list, for the first time in memory, did not include a single television reporter. Toward the end of the press conference, the President even called an audible, tossing the ball past well-respected CBS News chief White House Correspondent Major Garrett.
Perhaps coincidentally, the very same Jay Carney has been clashing with some TV reporters recently, and making unsubtle suggestions about their objectivity. A cynical person might think that the decision to skip all of the TV reporters was designed to avoid possible criticism that certain reporters were being snubbed.
Also perhaps coincidentally, the President himself has been outspoken about his displeasure with the media narrative that "both sides" are responsible for the current government shutdown and default crises.
Whatever the reason, the result was a press conference in which the President called on reporters so far back in the briefing room that there was a satellite delay, and which featured questions on a variety of topics, rather than the usual several cracks at the same question. As a reporter, it was a refreshing change, although the subject of Obamacare only came up when the President brought it up. The Huffington Post's Sam Stein even got in a question challenging the Democrats' agreement to near-Ryan Budget funding levels in the Continuing Resolution, not the kind of question that normally penetrates the mainstream media's Rock 'em Sock 'em Robots coverage of this dispute.
Whatever the intent, and despite my full, unqualified support for the 3rd-7th rows, the President's failure to engage the dominant media narrative represents a missed opportunity, not just for an entertaining clip or two, but for him to lay bare the notion that both sides are to blame for the current crises. Yes, he got that message out elsewhere in the press conference, but missed the chance to pull it up by the roots. He also skipped some reporters with very astute political minds who take seriously their duties to inform the American people.
Have a tip we should know? tips@mediaite.com