Holder and Cunningham Blow Up: 'Farrah Fawcett Wannabe!' 'Get Your Finger Out of My Face!'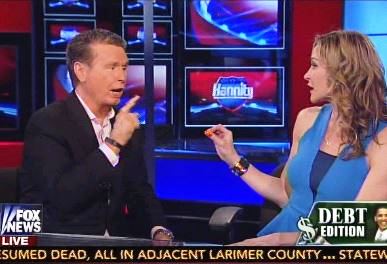 The last time Tamara Holder and Bill Cunningham faced off on Hannity, well, it didn't go so well. They got testy with each other, shouted a lot, and Cunningham ended up shouting, "Know your role and shut your mouth!" Both of them returned to Sean Hannity's desk tonight, and Holder tried to smooth things over with a peace offering of "happy candy." Unfortunately, it didn't work out so well and they ended up fighting again.
Reacting to their last joint appearance, Holder asked Cunningham to apologize to her, saying "We owe it to the viewers to talk about the issues ant not be so angry." That stuck for all of about one minute, when Cunningham declared "this woman has lost her mind!" in response to her defense of President Obama over perceived hypocrisy on the debt limit.
Holder shot back, asking "Are you talking to me like I'm an alien?" followed by "What do I look like?" Cunningham answered, "A Farrah Fawcett wannabe." This derailed the conversation yet again, with Holder lamenting to Hannity, "This is the problem with your show!"
They kept going, with Cunningham and Hannity arguing that Obama's a blatant hypocrite for railing against the debt limit under George W. Bush. Cunningham called Holder "insane" and amped up his tone, leading Holder to cry, "Get your finger out of my face!"
After quite a bit of crosstalk over the gigantic debt, Cunningham shouted, "People like you are helping to destroy this country fiscally, grow up!" Holder shot back, "All you do is call names, that's it!"
Watch the reunion below, via Fox News:
And here's the original segment that set all this off in the first place:
[photo via screengrab]
— —
Follow Josh Feldman on Twitter: @feldmaniac
Have a tip we should know? [email protected]
Josh Feldman - Senior Editor