Tammy Duckworth: It's Irresponsible Of Joe Walsh To Try And 'Muzzle' Veterans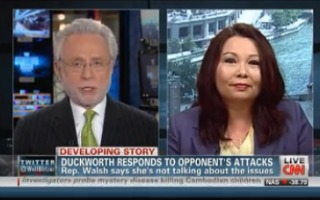 You might recall that, recently, Rep. Joe Walsh accused rival candidate Tammy Duckworth — a Purple Heart-winning pilot who lost both her legs in Iraq — of exploiting her accident for political gain by talking about it too often. Walsh has stood by those comments (while maintaining that he nonetheless views his rival as a hero for her service), even entering into a yelling match with CNN's Ashleigh Banfield over his continued criticism of Duckworth and her campaign.
RELATED: Rep. Joe Walsh Accuses Iraq Vet Of Not Being A 'True Hero' For Talking Too Much About Losing Her Legs
On Friday, Duckworth appeared on CNN as well, discussing Walsh's criticism with Situation Room host Wolf Blitzer.
Duckworth told Blitzer that, contrary to Walsh's jab that she talks about her accident rather than have to discuss any real plans for when/if she is elected to Congress, she does have a vision for her state. She then took her rival to task for voting against a highway bill that would, she says, have brought much-needed jobs to Illinois. His comments, she added, are merely attempts to distract from his own record, whereas as she has come with a real, viable plan focusing primarily on jobs and the economy.
"I think that Mr. Walsh is being very irresponsible in his words," she said, "at a time when we have so many veterans coming home. I hope that we veterans of this generation talk about their war experiences more than the veterans of the Vietnam generation, like Senator McCain."
It is irresponsible, she reiterated, of Walsh to try and "muzzle" war veterans.
When Blitzer asked her whether she holds it against Walsh that he hadn't served in the military, Duckworth replied that she does not, adding that she recognizes there are many ways to provide a service for this country, be it through engagement in politics, charity work, etc.
Blitzer then referred Duckworth to previous comments she'd made about Walsh, calling him a "loudmouth Tea Partier," for instance. "Is that appropriate, to use that kind of language against a sitting United States Congressman?" Blitzer asked.
"He is there to be a poster child for the Tea Party," she responded.
Blitzer concluded by extending an invitation to both Duckworth and Walsh to a debate — without any name-calling.
Watch, via CNN:
Have a tip we should know? tips@mediaite.com