Tampa Health Reporter Bravely Shares Her Breast Cancer Story With Her Viewers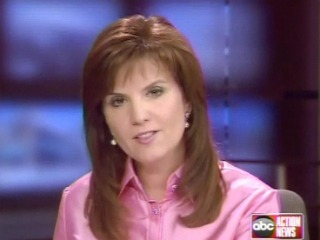 WFTS health reporter Linda Hurtado shared her own personal health scare with viewers when she announced, on-air, that she has been diagnosed with breast cancer.
"Tonight I have some very personal news to share with you," Hurtado said, her voice quivering. "I've lived my whole adult life in fear of getting breast cancer. I watched the disease ravage my beautiful mother." She shared her struggle in deciding whether, and how much, to share with viewers, before ultimately coming to the conclusion that, since she'd asked so many to share their personal health issues with her for over a decade, it was only fair, in a sense, to be open about her own struggle, particularly during breast cancer awareness month.
RELATED: Andrea Mitchell Announces That She Has Breast Cancer During Live Broadcast
And so, Hurtado looked back on her mother's battle with the disease and her own fears that she'd passed on "a genetic time bomb."
Hurtado's cancer is, fortunately, at its earliest stage. But she has made the difficult decision to "eliminate all risk" by removing both breasts. "A little extreme?" she asks. "After watching my mother die, and now seeing the fear in my own children's eyes, I decided to only dance with this devil once."
Advances in surgery now give cancer patients the option of more natural-looking breasts after their masectomies, with their outer breasts remaining intact and minimal, hidden scarring.
Hurtado will be off the air, of course, while she undergoes treatment and heals. But she leaves her viewers with one request: Visit your doctor and get a mammogram.
Have a look at her report:
h/t GMA / Yahoo
Have a tip we should know? tips@mediaite.com