Tamron Hall And Touré Agree: 'Dangerous for America' To Have Trial Of George Zimmerman In Media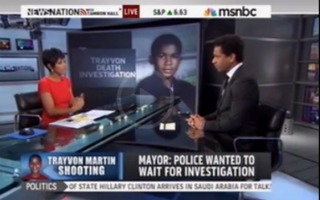 MSNBC Anchor Tamron Hall invited contributor Touré on to discuss the latest developments surrounding the Trayvon Martin case and the swelling "hoodie march" protests taking place in cities around the country.
RELATED: Piers Morgan Interviews George Zimmerman's Brother About Night Of Trayvon Martin Shooting
During the interview, Touré said that he believed the way that the Trayvon Martin case was being litigated in the court of public opinion was bad for the country. "It's dangerous for America the way were doing this as a trial in the media with the whole nation as jury and having this evidence come out piece by piece…"
"Well that would be the fault of the police department and the investigators for why these leaks have happened," Hall interjected. "Including the leak about Trayvon being suspended. That was a leak from a source within the police department."
"Irrelevant information," Touré replied.
Earlier in the interview, Hall asked Touré whether he believed that the intensity surrounding the case would die down in the weeks between the incident and when the grand jury convenes to investigate whether to impose criminal charges on George Zimmerman. Touré assured Hall that the intensity of emotion surrounding this case was only building.
"This is bubbling hotter and hotter," said Touré. "We've both seen that black people's rage about this is only growing. But the other side is being emboldened by the stories that are coming out that are trying to support George Zimmerman. Things like the Robert Zimmerman interview last night, where he is allowed to send multiple prevarications unchecked, unchallenged, uncontested."
Touré attests that the video released by the Sanford Police Department proves the initial police report that claimed Zimmerman was injured in a scuffle with Trayvon Martin false. "The person who walked into the Sanford Police Department in that video clearly was not in a fight," said Touré. "He did not get his nose broken."
Touré was troubled by the number of individuals coming to Zimmerman's defense. "We're seeing more and more of them rise up and feel emboldened to challenge the narrative that we're trying to assert that an unarmed, innocent black boy was murdered."
"I haven't seen anything like this in America, in terms of a racialized battle with stark dividing lines since O.J. – and that was a comedy compared to this," said Touré.
Hall brought up an interview on NBC's Rock Center that she recently participated in with Touré in which they revealed their experiences with racial profiling. Hall talked about the comments that she received after she did the interview and was shocked by some who considered the admission that she had experienced profiling "whining."
"To indicate that we were whining for talking about race and the question of race in this case, to be determined, hopefully, in a court of law, and that's seen as whining…"
Touré agreed that the reaction from those who think that simply talking about the racial aspects of the Trayvon Martin case is exacerbating ethnic tensions is misguided. "The idea that the fact that we're talking about race is forwarding racism, that is making the racial divisions worse – no, we're not trying to race-bait, whatever that means," Touré said.
Hall pointed out that there are two sides to this story and that she gets messages from white and Hispanic viewers on a regular basis who are as enraged as her black viewers are over the Tryavon Martin case. However, she says that she has encountered the perception that she, as a black journalist, cannot be fair and impartial while talking about this case.
"That is a racist perception, right," asked Touré. "Obviously, we can be fair. If the George Zimmerman team was presenting a consistent case, as [attorney] Kendall Coffey pointed out they are not—then maybe we have more of an argument of, like, we need to have more equanimity. But they are not presenting a credible case."
Watch the video below via MSNBC:
Have a tip we should know? tips@mediaite.com