Tamron Hall Challenges Ferguson Mayor: You Really Think Black Residents Are Happy?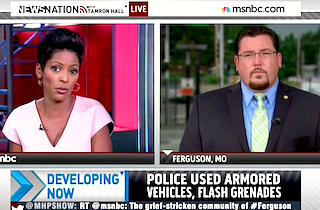 MSNBC anchor Tamron Hall interrogated Ferguson Mayor James Knowles over the racial divide in his city, after he said that he'd learned from the past week's events that Fergoson's predominately African American population needed to feel more of a "buy-in" to the town.
"The vast majority of my community — and I'll now put that number in the 95th percentile — is supportive of what we've been doing and we're going to do going forward," Knowles said.
"Of the 22,000 people that live in the area, 67% are African American, and you believe that of that most of those African Americans are happy with what is happening there?" Hall asked incredulously. "You should probably watch some of the coverage. It's not just people from the outside. I'm only reporting what people in your city — whether it's one street or two — there are people who feel that way."
"I've walked these lines with Captain Johnson and others," Knowles said. "I've spoken to people who say they live in Ferguson, and they don't. When I ask them what street, they don't live in Ferguson. They are people who live in the greater St. Louis area. St. Louis itself has had a history of segregation. …But the city of Ferguson has been a model for the region about how we transition from a community predominantly white middle class to a community predominantly African-American middle class. But again, we're all middle class residents who believe in the same shared values."
"But we know you're not all middle class," Hall said. "Because the unemployment rate is double digits. So, everybody is not middle class. That's not accurate."
Watch the clip below, via MSNBC:
[Image via screengrab]
——
>> Follow Evan McMurry (@evanmcmurry) on Twitter
Have a tip we should know? [email protected]