Tantaros Shreds NY Daily News: Terrorists Are Playing the Media Against America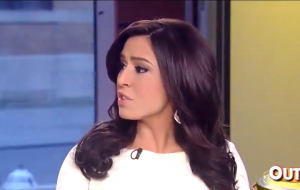 On today's Outnumbered, the hosts tore into the New York Daily News for their controversial cover today, which asserts that NRA chief Wayne LaPierre is just as much of a terrorist as San Bernardino shooter Syed Farook.
Andrea Tantaros opened up the discussion by saying that their cover was the latest in a series of attention-grab efforts that also deliberately ignored the fact that Farook and his wife fell through the cracks of California's strict gun laws.
Kennedy and Katie Pavlich blasted the narrative of taking cues from the Obama administration's reluctance to consider mental illness and terrorism as factors, and that it was a smear attempt on the right of Americans to bear arms.
"The Daily News is putting this out there if this is fact. This is completely bogus," Pavlich said. "The NRA is trying to defend rights of Americans when a terrorist is on the loose, watching and going, 'That is my neighborhood.'"
Tantaros finished off the segment by reiterating an account from a Guantanamo Bay soldier who said that terrorists are banking on the liberal media to turn American values and narratives against themselves in order to leave people more vulnerable.
"These terrorists understand our culture and playing us like a fiddle, and playing media and media allowing that to happen," Tantaros said. "They're turning inward on the American people and terrorists understand that better than the people at the New York Daily News editorial board do. That is a tragedy."
Watch above, via Fox.
[Image via screengrab]
— —
>> Follow Ken Meyer (@KenMeyer91) on Twitter
Have a tip we should know? tips@mediaite.com