Tapper and Miller Had Testy Spat After Explosive Interview: 'Don't Act All Offended'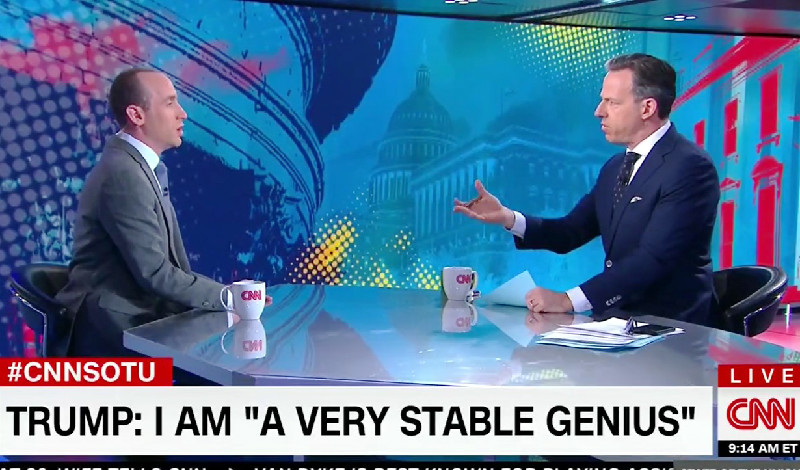 This Jake Tapper State of the Union interview with White House adviser Stephen Miller is the gift that keeps on giving.
First, there was the interview itself, which Tapper cut short, saying that the spokesman for President Donald Trump had "wasted enough of my viewers' time."
Then, there was the allegation that Miller had to be escorted off a CNN set by security after he refused to leave following the explosive interview.
Now it's time we come full circle. CBS producer Arden Farhi has obtained hot mic footage of the moments after Tapper cut to commercial break, just before Miller was allegedly escorted off the premises by security.
The transcript, which Farhi noted has been reviewed for accuracy by CBS, shows the two continuing their verbal spar, even when cameras stopped rolling.
"You had plenty of time," Tapper told Miller after the interview had concluded. "I let you have like a three minute filibuster at the very top."
Miller, unimpressed, told Tapper "you gave me two minutes" and told the anchor that he should be "ashamed" of himself.
"This is the reason they don't put you on TV," Tapper fired back. "Okay? This is the reason."
"You spent the entire interview attacking CNN, ok, so don't act all offended."
Miller responded with outrage, lambasting both Tapper and his network.
"I'm not acting offended," he said. "I am offended. I'm offended by you and I'm offended by your network."
[image via screenshot]
—
Follow Lawrence Bonk (@sidescrollers) on Twitter
Have a tip we should know? tips@mediaite.com