Tapper Confronts Hillary Spox: She Ripped Obama in '08 for What She's Doing to Bernie Now!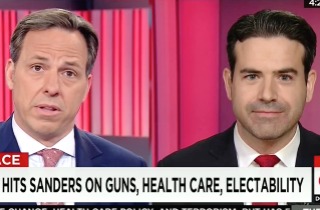 Bernie Sanders is within striking distance of Hillary Clinton in both Iowa and New Hampshire. And so, naturally, Clinton's bringing out the big guns to attack him. There are two big issues that the Clinton camp is honing in on to go after Sanders: guns and health care.
It's the latter that's receiving more attention this week, with Clinton decrying Sanders' proposal for universal single-payer health care by saying he wants to rip up Obamacare to start over. Even Chelsea Clinton emerged as a surrogate for her mother on this issue, saying she doesn't like the idea of millions of people losing their health insurance.
But on CNN this afternoon, Jake Tapper confronted Clinton spokesman Brian Fallon over an angry statement Clinton made in 2008 when Barack Obama's campaign criticized her for her health care plan. She called it false and made these (interesting in hindsight) remarks:
"It is destructive, particularly for a Democrat, to be discrediting universal health care by waging a false campaign against my plan… It is undermining core Democratic principles. Since when do Democrats attack one another on universal health care?"
It appears 2016 Hillary Clinton has now answered her own question.
Tapper confronted Fallon and asked how Clinton isn't doing the very thing she decried eight years ago. Fallon stuck to arguing that Sanders hasn't put out a detailed plan yet.
But Tapper kept pushing on the idea of Clinton specifically saying it is wrong for Democrats to be attacking each other on this very specific issue. Fallon said that Clinton is proud of the Affordable Care Act and she just doesn't favor policies that hurt middle class Americans.
Watch above, via CNN.
[image via screengrab]
— —
Follow Josh Feldman on Twitter: @feldmaniac
Have a tip we should know? tips@mediaite.com
Josh Feldman - Senior Editor