Tapper Confronts Podesta on FBI: Isn't This All Clinton's Fault for Setting Up That Server?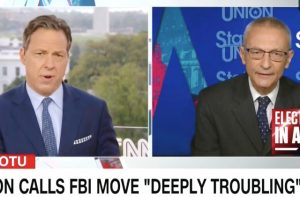 Jake Tapper grilled Hillary Clinton campaign chairman John Podesta this morning over the FBI letter and how this whole mess is Clinton's fault in the first place.
He pointed out the Clinton campaign has very quickly turned on James Comey, considering how laudatory they were of him even just last week. Podesta insisted that they're just reaction to an "unprecedented action" on his part.
Tapper asked him if after Clinton set up the server in the first place and Huma Abedin apparently didn't hand over a relevant computer, they're really going to start playing the transparency card where the head of the FBI is concerned.
Podesta objected to the idea that anyone knows anything that's in those emails they found, but Tapper pointed out there's been a ton of reporting giving some insight into the matter since Friday.
Tapper grilled Podesta on whether Abedin has been asked what could be on that computer. Podesta said, "We don't know what computer Mr. Comey is talking about."
But Tapper also got around to the setup of the server in the first place and said that all of this is only happening because of Clinton's "horrible decision" to set up the server in the first place.
Podesta insisted that she's learned from this. Tapper asked, "What has she learned?"
Podesta said Clinton wouldn't do it again.
Tapper also took the opportunity to bring up how Podesta and others in Clinton's inner circle were beside themselves with these email revelations (information we know due to the WikiLeaks release).
Watch how Podesta reacted above, via CNN.
[image via screengrab]
— —
Follow Josh Feldman on Twitter: @feldmaniac
Have a tip we should know? tips@mediaite.com
Josh Feldman - Senior Editor