Tapper Corners Obama on 'Diminished Expectations': From Slowing Rising Oceans to Executive Orders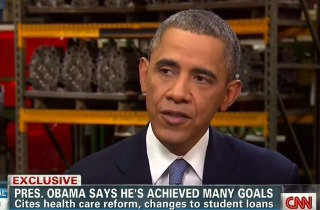 On Thursday, CNN host Jake Tapper sat down with President Barack Obama for a wide-ranging interview, the first he has given since his fifth State of the Union address to the United States. In a clip of the full interview, set to air on Friday, Tapper asked Obama about his plan to rely on executive orders to circumnavigate Congress and how his critics have charged that this is an indication that the president has been "diminished" in his second term. Obama argued that he has accomplished much of what he set out to do in his presidency.

Tapper asked the president just how much he believes he can accomplish via executive order alone. Obama replied that his primary focus is on expanding "opportunity" to those seeking employment.
"Obviously, there's going to be more that we can do if Congress is able to break through some of the gridlock," Obama said.
"You don't sound confident that that's going to happen," Tapper observed.
"I think there are going to be some issues where it's going to be tough for them to move forward," Obama said. He added that, while he was open to ideas from Republicans in Congress, "I can't wait."
RELATED: Obama Abandons Unrealistic Progressives, Courts the Right with New Media Strategy
"Your critics say this is diminished expectations," Tapper said. "I remember during your campaign you talked about your presidencies being when the oceans would slow and the nation would heal and now you're talking about pen and phone and executive orders and executive actions."
"Do you think you were naive back then or have you recalibrated your ambitions?" he asked
"Well, part of it is, we got a lot of that stuff done," Obama said. The president touted the Affordable Care Act and reform to student loans as examples of his accomplishments.
He added that issues like climate change are going to be addressed via executive order. He noted, however, that the nature of divided government is slower moving government.
"The House Republicans, in particular, have had difficulty rallying around any agenda, much less mine," Obama concluded.
Watch the clip below via CNN:
[Photo via screen grab ]
— —
> >Follow Noah Rothman (@NoahCRothman) on Twitter
Have a tip we should know? tips@mediaite.com