Tapper Grills WH Chief of Staff Over VA Scandal: 'How Many Dead Veterans Do You Need?'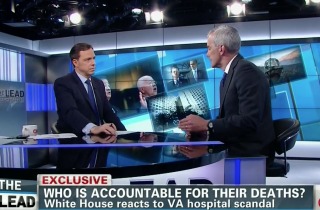 In an appearance on CNN's The Lead with Jake Tapper, White House Chief of Staff Dennis McDonough defended the record of Veterans' Affairs Sec. Eric Shinseki in his post amid a scandal involving fabricated waiting times leading to the death of military veterans. McDonough asserted that both Shinseki and President Barack Obama are outraged over the latest scandal involving the VA, even though this is not the first accusation of fatal negligence at that department.

When Tapper asked "how on earth" the president can continue to have confidence in his VA secretary, McDonough replied by noting that he has "the scars" to show just how angry Obama is over this episode.
McDonough defended Shinseki's record in his post, however, and noted that he has overseen the expansion of medical services to more veterans while serving in his role. "Rick is going to get to the bottom of this," McDonough said. "The president is demanding that, and that's what we'll do."
Tapper pressed McDonough over why Shinseki is not being held accountable for the deadly negligence that occurred under his watch. "He holds himself to account," McDonough replied.
Tapper brought up an outbreak of Legionnaires Disease, which occurred in VA facilities in 2011 under Shinseki's watch. In spite of a report that indicated that negligence led to that outbreak, no one was held accountable. "This is not new," he said. "What can be done to stop this culture of no accountability in the VA system?"
"The president, as soon as he heard about the latest outrage in Phoenix, he said, 'I need to know what happened, I need to know the accountability measures that you have and that you can institute, and if it's not enough then let's change it and make sure we hold people accountable," McDonough replied.
Tapper became agitated with McDonough's defense of Shinseki even though he was presented with a letter that warned of VA access problems one year ago. "How many dead veterans do you need before somebody asks the question within the White House, 'Maybe this guy isn't the best steward of these veterans'?" he asked.
Watch the clip below via CNN:
[
Image via screengrab
]
— —
>> Follow Noah Rothman (@NoahCRothman) on Twitter
Have a tip we should know? tips@mediaite.com