Tapper to Bush: If George W. Wasn't Responsible for 9/11, How Do You Blame Hillary for Benghazi?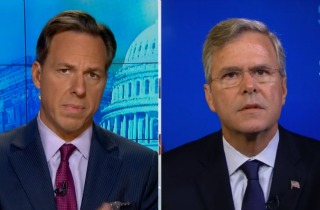 During his appearance on State of the Union, Jeb Bush got grilled by Jake Tapper as to how he can defend George W. Bush against Donald Trump's comments on 9/11, while also going Hillary Clinton for the Benghazi terrorist attacks.
Over the past few days, Bush's feud with Trump re-ignited as the two verbally fought after the latter pointed out how the attacks happened while Bush's brother was president.
To the implication that his brother bears part of the blame, Bush responded by telling Tapper that his brother did his presidential duty by responding to a crisis while promoting national unity and taking counter-measures to ensure that it wouldn't happen again.
Tapper agreed that Al-Qaeda was truly responsible, but followed-up by asking why Clinton cannot assert the same argument as she continues to face scrutiny by the Benghazi Committee.
"You don't want to have your brother to bear responsibility for 9/11, but why are the terrorists not the ones who are responsible for these attacks in Libya," Tapper asked. "How do you make the jump that President Obama and Secretary Clinton are responsible for what happened at Benghazi?"
Bush retorted that the investigation's objective was not based on partisanship (though Clinton certainly disagrees), but that it had to determine whether the State Department lived up to its protective responsibilities to the murdered officials.
"Were we doing the job of protecting our embassies and our consulates, and during the period, those hours after the attacks started, could they have been saved," Bush asked.
Tapper pressed on by saying that the terrorists were the ones truly to blame for the crisis, not necessarily Clinton herself. Bush agreed, but held firm by saying that the attack response and protective detail still needed to be looked at in terms of how things might've been done better.
"If the ambassador was asking for additional security and they didn't get it, that's a proper point," Bush said. "And if it's proven that the security was adequate compared to other embassies, then fine, we'll move on."
You can watch the interview (the relevant part begins at 1:58) in the video above, via CNN.
[Image via screengrab]
— —
>> Follow Ken Meyer (@KenMeyer91) on Twitter
Have a tip we should know? tips@mediaite.com