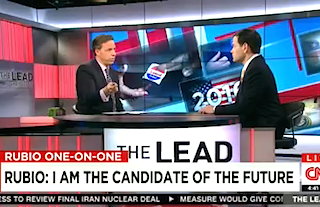 During his campaign announcement speech in Miami, Florida on Monday, Sen. Marco Rubio (R-FL) referred to Hillary Clinton as "a leader from yesterday" who is "promising to take us back to yesterday." But during an interview with the Republican candidate on Tuesday afternoon, CNN's Jake Tapper highlighted one issue on which Rubio is "the candidate of yesterday."
"You are casting yourself as a candidate of a new generation, but there is an issue where you are very out of step with younger voters," Tapper said, citing a Pew poll that showed 61% of young Republicans are in favor of same-sex marriage.
"On that issue, same-sex marriage, Senator, you're the candidate of yesterday," Tapper declared.
Rubio began by offering up the same defense that Sen. Rand Paul (R-KY) has been known to use, saying that gay marriage is a "state issue" that he would not have to address as president. Also, he added, "I think there's still a significant number of Americans that believe that the definition of marriage should be that of one man and one woman, as it has been for thousands of years."
"But they're a minority," Tapper pointed out.
Shifting the focus, Rubio told the CNN host, "When I talk about the future, what I'm really pointing to is not those issues necessarily but the fact we are living through a massive transition into a post-industrial era where millions are being left behind, because America is no longer globally competitive as it once was and because they do not have the skills required to succeed in the 21st century."
Watch video below, via CNN:
[Photo via screengrab]
— —
>> Follow Matt Wilstein (@TheMattWilstein) on Twitter
Have a tip we should know? tips@mediaite.com