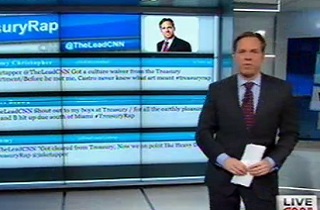 The fallout from the Jay-Z and Beyoncé Cuba trip continued Thursday, as Politico's Donovan Slack became, perhaps, the first White House reporter ever to quote a rap lyric during a White House briefing. Slack asked White House Press Secretary Jay Carney for a reaction to a lyric from Jay-Z's just-dropped "Open Letter," in which Jay quotes President Obama. CNN's The Lead host Jake Tapper took Carney's response, that "nothing rhymes with treasury," and had a little fun with it, asking viewers to tweet lyrics that could prove Carney wrong, then spitting said rhymes at the end of his show. Since Jake picked my tweet as the winner, I thought it would only be fair to drop a phat beat under Tapper's fly style.
"Jay-Z released a rap today,"Slack began, at Thursday's briefing. "I know the other day you said that Treasury was the one that cleared their trip. He suggested that he got White House clearance, and that he personally spoke with the President. I'll just quote: 'I turned Havana into Atlanta/ Boy from the hood got White House clearance/ Obama said, 'Chill, you gonna get me impeached'/ You don't need this [expletive] anyway/ Chill with me on the beach.'"
Carney responded, "I guess nothing rhymes with Treasury," to laughter from the press corps. He added, dryly, "Because Treasury offers and gives licenses for travel, as you know, and the White House has nothing to do with it."
On The Lead, Jake Tapper wasn't taking Carney's challenge lying down, dropping a quick freestyle of his own, and solicited others from his viewers. At the end of the show, Jake busted two of the rhymes, including one from your humble author. It's just as well, I've always been more of a hype man, anyway. In honor of our first collab, here is a jam more dope than a libertarian's "herb garden," more fly than the buttons on your Levi's, deffer than an earless Leppard, here's the @TommyXtopher remix of "Nothing Rhymes With Treasury":
Follow Tommy Christopher (@TommyXtopher) on Twitter.
Have a tip we should know? tips@mediaite.com