Targeting Journalists For Violence In Egypt: Government Is "Eliminating Witnesses"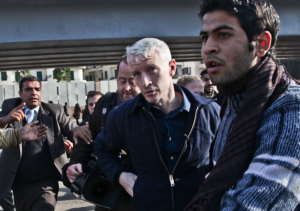 After days of largely peaceful protest and media attention from around the world, Cairo became a far more dangerous place to be for journalists today–especially Americans. "The Egyptian government is employing a strategy of eliminating witnesses to their actions," said Mohamed Abdel Dayem, Middle East and North Africa program coordinator for the Committee to Protect Journalists. "The government has resorted to blanket censorship, intimidation, and today a series of deliberate attacks on journalists carried out by pro-government mobs."

Attacks on reporters–the most high-profile attack involving CNN anchor Anderson Cooper–became widespread Wednesday as pro-government protesters threw rocks and molotov cocktails in violent clashes with anti-government protesters. Reporters for a Danish newspaper, Israeli TV, the Associated Press and the BBC all reported being attacked, punched or arrested.
Other journalists, including CBS Evening News anchor Katie Couric, reported being intimidated and harassed while attempting to report. (See video below)
The CPJ has tracked the attacks, including a mob that surrounded and threatened ABC's Christiane Amanpour, warning her to leave and telling her that they "hate America."
CBS News correspondent Mark Strassmann says a mob of several hundred suddenly surrounded his CBS crew:
My colleague's small camera was in his pocket, but we stood out as Americans. People began pushing and shoving both of us, especially him. We've been in these situations enough to know you just try to get out as quickly as you can. But we were trapped. From behind, I saw him get pushed and shoved, and then three separate people ran up to throw punches at him as he ducked to get out of the melee. He later told me he had also been maced.
The CPJ's Mohamed Abdel Dayem says "The situation is frightening not only because our colleagues are suffering abuse but because when the press is kept from reporting, we lose an independent source of crucial information."
Here's CBS' Katie Couric attempting to record a standup on the streets of Cairo, from CBS News:
Have a tip we should know? tips@mediaite.com