Tavis Smiley Blasts Obama's 'Weak As Kool-Aid' Speech: 'This Is Not Libya, You Can't Lead From Behind' On Race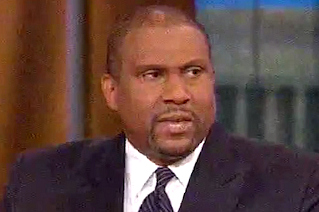 Tavis Smiley dissented from the otherwise laudatory reactions to President Barack Obama's speech on Friday, telling David Gregory's Meet the Press panel that he thought the president's remarks were too little, too late, "as weak as pre-sweetened Kool-Aid," as he tweeted on Friday.
"I appreciate and applaud the fact that the president did finally show up," Smiley said. "But this town has been spinning a story that's not altogether true. He did not walk to the podium for an impromptu address to the nation. He was pushed to that podium. A week of protests outside the White House, pressure building on him inside the White House, pushed him to that podium."
Smiley warned Obama that the issue of race was one that had to be seized:
"But when he left the podium, he still had not answered the most important question, that Kingian question, where do we go from here? That question this morning remains unanswered, at least from the perspective of the president. And the bottom line is, this is not Libya. This is America. On this issue, you cannot lead from behind. What's lacking in this moment is moral leadership. The country is begging for it. They're craving it.

"And I disagree with the president respectfully that politicians, elected officials, can't occupy this space on race. Lincoln did, Truman did, Johnson did, President Obama did. He's the right person in the right place at the right time, but he has to step into his moment. I don't want him to be like Bill Clinton, when he's out of office, regretting that he didn't move on Rwanda. I don't want the president to look back and realize he didn't do as much as he could have in this critical moment."
Smiley later contrasted Obama's relative silence on race to the conversation to which Obama—first reluctantly and then forcefully—contributed on gay marriage.
"I don't know how the president argues that he doesn't believe that he can have a role in leading us in a moral conversation," Smiley said. "This is not a political issue. This is a moral issue. I don't know how he can't lead us in a conversation on this, but he can on gay marriage? He can on a litany of other—he can on Israel and Palestine, but not race?"
Watch the clips below, via NBC News:

—
>> Follow Evan McMurry (@evanmcmurry) on Twitter
Have a tip we should know? tips@mediaite.com