Tavis Smiley Challenges O'Reilly On Black Crime: Let's 'Arm Every Black Person' And See What NRA Thinks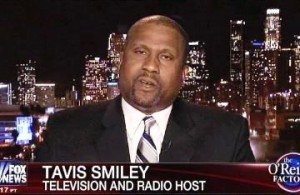 PBS host Tavis Smiley joined Bill O'Reilly to react to O'Reilly's assertions about the lack of media coverage over black-on-black crime in the United States. Smiley told O'Reilly that institutionally there is a contempt for black men in the United States that has to be addressed. O'Reilly pushed back, while Smiley brought up gun laws and suggested that every black person in the United States should have a gun just to see how the NRA responds.
Smiley argued that there is an empathy gap in that there was much of it for the children victimized in Sandy Hook but not enough for young black Americans suffering on a daily basis. He wondered why the NRA has not come out yet and said that Trayvon Martin would be alive today if he had a gun.
RELATED: Tavis Smiley Condemns Zimmerman Verdict: 'Incontrovertible Contempt Towards Black Men'
O'Reilly pressed Smiley about whether the trial was unfair, and confronted him about his claim that there is a "contempt" for black Americans in the United States. O'Reilly told him, "America doesn't have contempt! That's wrong, it's fallacious!" Smiley insisted that black men are viewed as a "menace to society" in many cases.
He went down a list of examples for O'Reilly, from the overcriminalization of young black men in the education system to the racial elements of the drug war and high black unemployment. O'Reilly shot back that a lot of these problems come from "blacks themselves who won't solve the problems of their neighborhoods."
When O'Reilly pushed Smiley on the black-on-black murder rate, Smiley brought up gun control and how that ties into the racial discussion. He concluded, "Arm every black person in America, and then let's see what the NRA has to say."
Watch the video below, courtesy of Fox News:
—–
Follow Josh Feldman on Twitter: @feldmaniac
Have a tip we should know? [email protected]
Josh Feldman - Senior Editor