Tavis Smiley: Obama Is First President In My Career Not To Invite Me To The White House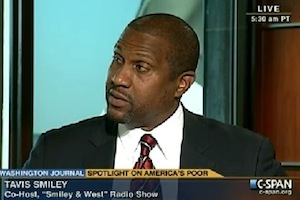 Tavis Smiley and Cornel West continued their media tour on C-Span this morning, and expressed frustration with President Obama over a much more personal issue than merely not talking about poverty. Smiley noticed that Obama invited Bill O'Reilly to the White House, but he himself has yet to receive an invitation from the President, who regularly appeared on his show before being elected President.
Smiley suggested he wasn't crying about being ignored by Obama, but since he was asked, he was willing to answer the question:
"Once he got elected and my critique of him about holding him accountable to various things didn't sit so well with him or the people around him, he has not at this point come on my TV or radio programs one time since he's been in the White House. This is the first president in my professional career that hasn't invited me to the White House."
West shared the disappointment, noting that Obama is "wrong" for neglecting Smiley and Roland Martin, in favor of inviting "right-wing brothers" like O'Reilly and Sean Hannity to the White House. Clearly O'Reilly was in the White House, interviewing Obama during the Super Bowl, however West's allegation about Hannity also rubbing elbows with the President seems a bit far-fetched. Regardless, West warns "when [Obama] moves into campaign mode, it's going to be different." That seems to suggest they expect Obama will embrace them when they are needed during the next election, but was West's tone just cryptic enough to possibly suggest that what might be "different" next time is how warmly he will embrace Obama's return?
Watch the clip from C-Span below:

Have a tip we should know? tips@mediaite.com