TaxMasters Goes Bankrupt Owing Big Money To Cable News After 110,000 Fraud Violations
TaxMasters Goes Bankrupt Owing Big Money To Cable News After Fraud Violations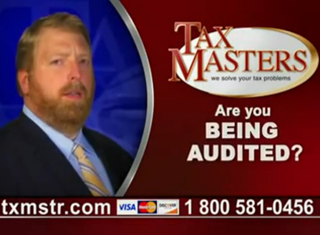 It appears that Patrick Cox, head of advisory firm TaxMasters and red-bearded star of its inescapable commercials, is set to join the Pantheon of commercial stars that includes "King of Infomercials" Don Lapre and the legendary Miss Cleo: TaxMasters has filed for bankruptcy, after a Texas court found the corporation guilty of more than 110,000 fraud violations and being ordered to pay $195 million to its victims. Unlikely to see much of that money? Fox News, MSNBC, and CNN– three of TaxMasters' biggest advertising grounds.

Fox Business has some of the highlights on the long list of violations to the company's name:
TaxMasters was found to have committed more than 110,000 violations of Texas' Deceptive Trade Practices Act, according to a statement released by Texas Attorney General Greg Abbott.

The case was first filed against TaxMasters nearly two years ago. Prosecutors alleged that the "so-called 'tax resolution' firm" misled their clients by "aggressively advertising" its services to taxpayers who have been audited by the IRS or were facing liens, garnishments or were simply behind in their taxes. Among other illegal acts, TaxMasters was accused of lying to customers by telling them a TaxMaster representative would start work on their case immediately. Instead, TaxMasters employees only started work when a client had paid in-full. That often meant clients missed important deadlines set by the IRS. […]

In addition, TaxMasters often failed to contact the IRS on behalf of its clients and failed to show up for IRS hearings, according to prosecutors.
This fraudulent scheme exposed for what it is, the remaining money that TaxMasters has as a company will go first and foremost to the victims. On the bottom of that list, however, are people to whom TaxMasters owes a ton of money on advertising– namely, every place you've ever seen a TaxMasters ad on. Via TV Newser, the numbers cable news companies are looking at losing are staggering:
As noted by Forbes, TaxMasters' largest creditor is CNN, which it owes a staggering $2.6 million. The company owes Fox News Channel more than $938,000 and MSNBC nearly $260,000. When you add the money it owes to History, Discovery and The Weather Channel, among others, the bill is over $5 million.
TaxMasters may be gone and irreparably indebted, but not forgotten, Cox having earned himself a parody by Jason Sudeikis and the corporation guaranteed a spot on VH1's inevitable "I Love The '10s."
Below the classic Taxmasters ad, featuring Patrick Cox:

Have a tip we should know? tips@mediaite.com