Tea Partier Confronts Obama About Biden's Alleged 'Terrorists' Remark At Town Hall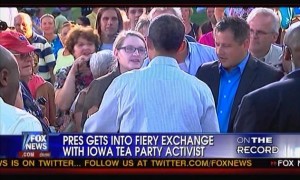 President Obama has only been on the road meeting Americans for hours, and already has had a fairly contentious exchange with a Tea Party member while greeting a crowd. Iowa Tea Party leader Ryan Rhodes approached the President today and demanded to know why Vice President Joe Biden had allegedly called the Tea Party "terrorists" in a private meeting, an assertion the President, according to Rhodes, denied.
The exchange happened outside a town hall the President was hosting today in Iowa, where the camera picked up Rhodes asking the President to explain why he had said that. Rhodes later told Fox News that the President "said the Vice President didn't make any of those assertions," an argument Rhodes argued "demonstrates the deep divide" between the President and the Tea Party. On Hannity tonight, Rhodes received plenty of support from the panel, who more of less agreed that "of course" Vice President Biden said Tea Partiers were terrorists (he denied it and that the President's claims that, having been attacked often, he opposed the rhetoric, weren't enough.
Greta Van Susteren has published a more extensive report on the exchange from Fox News White House Correspondent Ed Henry, in which the President is quoted as saying, "As someone who's been called a socialist, not born here, taking away freedoms for providing health care, I'm all for lowering the rhetoric."
A snippet of the fiery exchange, and commentary from Hannity and guests, via Fox News below:

Update: A longer version from Fox's On the Record:
Have a tip we should know? tips@mediaite.com